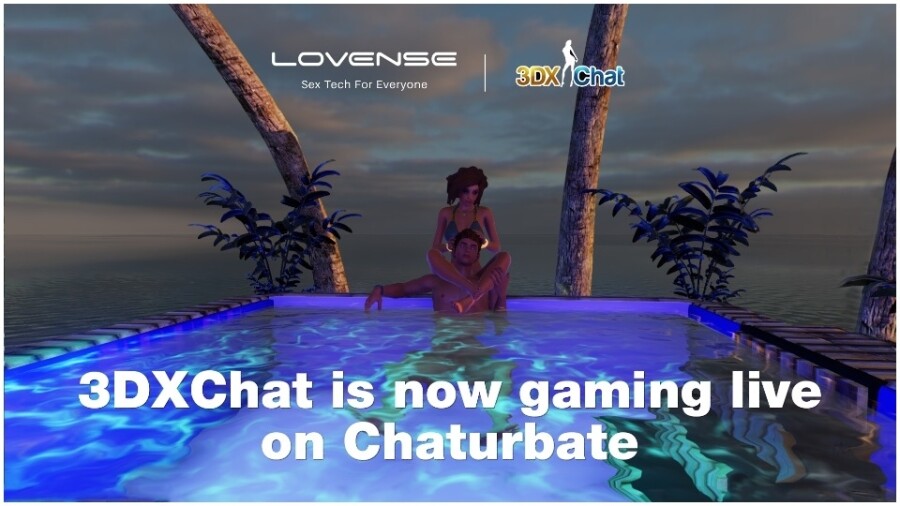 Adult Game 3DXChat With Lovense Integration Now Available on Chaturbate
SINGAPORE — 3DXChat, described as "the most innovative virtual 3D universe for adults" and the first sex game to support Lovense interactive pleasure toys, has received the Chaturbate stamp of approval and is now available on the platform's newly launched game-streaming feature.
"Performers can invite their fans to dive into the exciting virtual world of 3DXChat and experience moments of pleasure together. Live 3DXChat streams can be found by searching the hashtag #3dxchat on Chaturbate," explained a rep.
"We are delighted with this wonderful news and very happy for those players who will now be able to combine the pleasure of playing 3DXChat with making money," the rep said. "Beyond that, the streams on Chaturbate, which is certainly one of the majors in the market, will provide 3DXChat with more exposure and attract new players."
The 3D virtual universe "includes many worlds," the rep continued.
"Players can travel between worlds and interact with each other by controlling fully customized avatars. Avatars can communicate with each other, dance, create and join communities, make friends, get married, and, of course, make love," they said. "The game includes more than 600 sex positions from single masturbation to hot threesomes in any gender combination."
In May, 3DXChat and Lovense entered into a partnership to integrate Lovense interactive toys with the game.
"Players can enjoy full immersion by pairing Lovense toys with 3DXChat, as the toys are fully synchronized with in-game sex animation in real time," noted the rep.
"We are happy to see adult platforms introducing gamification and launching game streaming services. We at Lovense have high hopes for the future of the gaming market and are actively developing in that direction," CEO Dan Liu said. "3DXChat is a superbly designed game with huge potential and I am personally very glad that more people will have a chance to learn about it."
3DXChat supports Windows PCs and is distributed via paid subscription; click here for additional details.
Find Lovense on Twitter and XBIZ.tv.