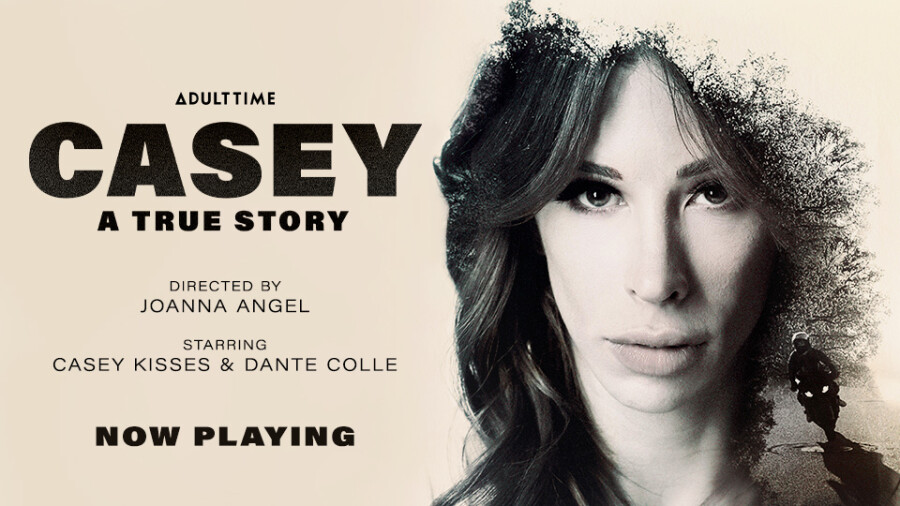 Adult Time Announces Debut of Star-Packed Casey Kisses Biopic
MONTREAL — Casey Kisses, reigning XBIZ "Trans Performer of the Year," takes the spotlight with the debut of "Casey: A True Story," a star-packed biopic that centers on her "coming of identity," noted a rep.
"Written and directed by Joanna Angel, Kisses' autobiographical story shines a light on the unique experience of transitioning and highlights the importance of sharing real stories as a first step towards overcoming prevailing social stigmas," the rep said.
XBIZ "Performer of the Year" Dante Colle shares the lead role as "a small town drifter named Cameron who joins a local biker club and meets a woman (Khloe Kay) with a secret — one so powerful that it starts the wheels in motion towards changing the course of Cameron's life forever and a life lived boldly as a woman named 'Casey,'" noted the rep.
The cast includes Charles Dera, Owen Gray, Small Hands, Kenna James, Kylie Le Beau, Kira Noir, Derrick Pierce and Tommy Pistol; Adult Time CCO Bree Mills served as the project's executive producer.
"Working on 'Casey: A True Story' was one of the biggest accomplishments of my career; it was such an honor to perform alongside such amazing actors and actresses such as Tommy, Dante and Kira," Kisses said.
"The end of the movie is probably my favorite part because I'm still living in the success today and am so grateful for everything the industry has provided me," she continued. "Huge 'thank you' to everyone at Adult Time, Bree and Joanna for helping my story get told and hopefully inspire others to live the life they love."
Kisses will tub-thump the release with an AMA on Adult Time's Instagram page today at 3 p.m. (PDT).
An R-rated version of the feature, and a BTS featurette, are now available for free at CaseyFilm.com; the explicit version begins a rollout today on Adult Time with the first of four episodes, followed by an exclusive VOD release from September 28 through October 4, and then a full DVD release October 5.
"Casey's journey is a compelling and important one that we were excited to tell," Mills said.
Find "Casey: A True Story" on IMDb and follow Adult Time and Casey Kisses on Twitter.