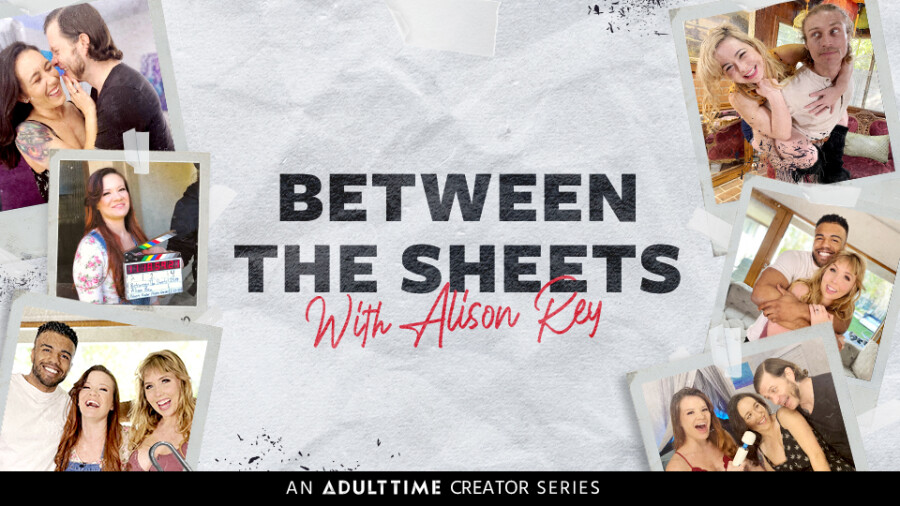 Adult Time Debuts Alison Rey Docu-Series 'Between the Sheets'
MONTREAL — Adult Time has announced the premiere of reality-based docu-series "Between the Sheets With Alison Rey." Each episode follows adult performers and their partners as they go about their daily lives and concludes with a sex scene focused on "the couples' personal pleasure."
Debuting today, the series was directed by Rey and "shot with a skeleton crew for a more intimate feel," noted a rep, to "probe the personal experiences of life behind the scenes of the industry's most fascinating film stars."
Rey admits to feeling like "small potatoes" when she approached the streaming service about her pet project.
"I half-expected to be turned away or paired up with an existing director to shoot the series," she said. "The thing about Adult Time is that they fully support performers and directors' creativity and collaboration, and I feel so very lucky to have their team behind me on this project."
In addition to hosting and production duties, Rey noted her focus with each episode was on "making performers feel proud to be a part of their chosen profession and giving them an opportunity to reveal a side of their lives that fans might want to know more about."
"I believe real people are sexy, flaws are sexy and being a sexually-liberated person is sexy. I hope viewers can appreciate the reality behind the screen, and I hope it helps to humanize my fellow performers as people who do a job that happens to involve sex," she said. "I can't express enough gratitude for Adult Time's support, guidance and encouragement throughout this process."
Initial episodes include Sinn Sage and Drake ManOWar, Siouxsie Q and Michael Vegas and Lena Paul and Troy Francisco.
Visit Adult Time online and on Twitter; find Alison Rey on Twitter.