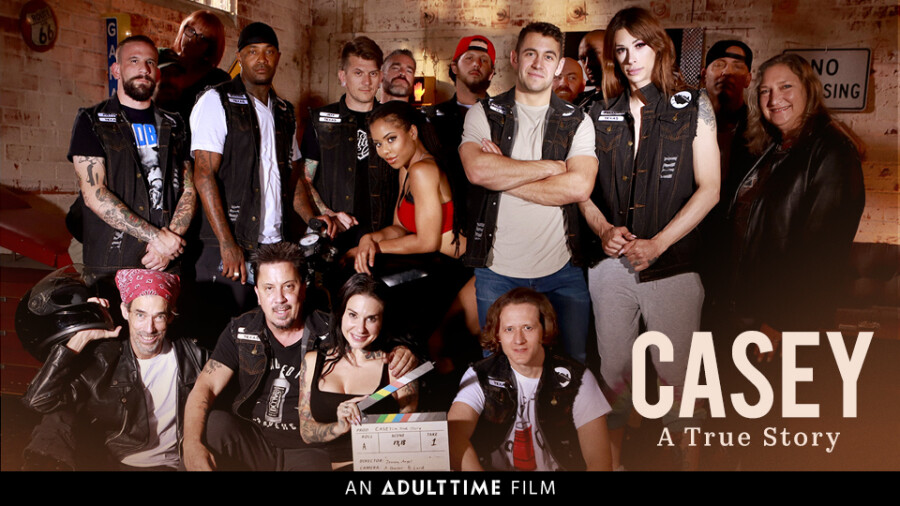 Adult Time Wraps Starry Biopic 'Casey: A True Story' With Casey Kisses, Dante Colle
LOS ANGELES — Adult Time has announced production has wrapped on "Casey: A True Story," a starry biopic based on the life experiences of reigning XBIZ "Trans Performer of the Year" Casey Kisses, who shares the lead role with XBIZ "Performer of the Year" Dante Colle.
The cast includes Kylie LeBeau, Owen Gray, Small Hands, Kenna James, Khloe Kay, Kira Noir, Derrick Pierce and Tommy Pistol under the direction of Joanna Angel.
"Cameron is a small-town drifter who aspires to join the local biker club," noted a rep. "A loyal hang-around, he quickly rises through the ranks to ride alongside the President. But Cameron has a secret.  What starts out as sexual curiosity leads to the realization that the young biker is not who she seems."
The rep said "Casey: A True Story is "a 'coming of identity' story that shines an important light on the unique experience of transitioning and why sharing real stories is a step towards overcoming real stigmas."
Kisses penned the script with Angel and Shawn Alff.
"It was such an honor to be able to share my story through Joanna's eyes," she said. "Working with everyone was such a pleasure and I feel like it brought us all closer together. The entire cast and crew are the coolest and most professional I've worked with. It's bittersweet; I am sad it's all over."
Colle described the experience as "truly an honor."
"I was intimidated at first because it was incredibly important to do this story justice," he said. "Casey is a friend of mine and this project certainly brought us closer together. I spent several weeks analyzing her mannerisms and vocal inflections to really get the role down. This has challenged me in so many ways. It was emotional and beautiful and badass."
A rep noted the idea for "Casey: A True Story" stemmed from "a series of candid conversations" between Kisses and Angel over the past two years.
"I tried to not ask too many questions, but I was completely fascinated by the few details Casey had told me about her life. Every time I'd see her, I'd ask a few more questions and hear more fragments of her story," Angel recalled. "At this point in my life, I really thought I'd heard it all — but this story was unlike anything I'd ever heard. It was like the greatest episode of 'Sons of Anarchy' ever written."
Director of photography Mike Quasar noted "everyone involved brought their A-game."
"This was absolutely the highlight of my career by far," he added. "Joanna, you are amazing."
The director and Kisses happened to be on set together in February when Adult Time CCO Bree Mills reached out to Angel about a film project with a trans woman in the leading role.
"Bree asked if I could tell her what ideas I had. I took one look at Casey, as she was putting the final touches of her makeup on, and said, 'Hey — could I make a movie about your life story?' and she looked at me and replied, 'Are you fucking kidding me? I'd love that!'"
"Casey: A True Story" will be released, later this year, both as an X-rated three-episode limited series and as an R-rated feature film.
"My gratitude to Casey for sharing her story and to Joanna for taking on such a challenging and important project with passion and dedication," said Mills, who served as the project's executive producer. "This is a film that I am extremely proud to release on Adult Time, but will be even more proud to offer it as a free, R-rated version for anyone out there who wants to listen, to learn, to grow and to embrace inclusivity."
"As an industry, we reach so many people with our work and have a profound influence on sex and sexuality in our culture, so I am happy we are able to offer this beautiful story," Mills added.
Visit Adult Time online and follow Adult Time, Joanna Angel, Dante Colle and Casey Kisses on Twitter for updates.