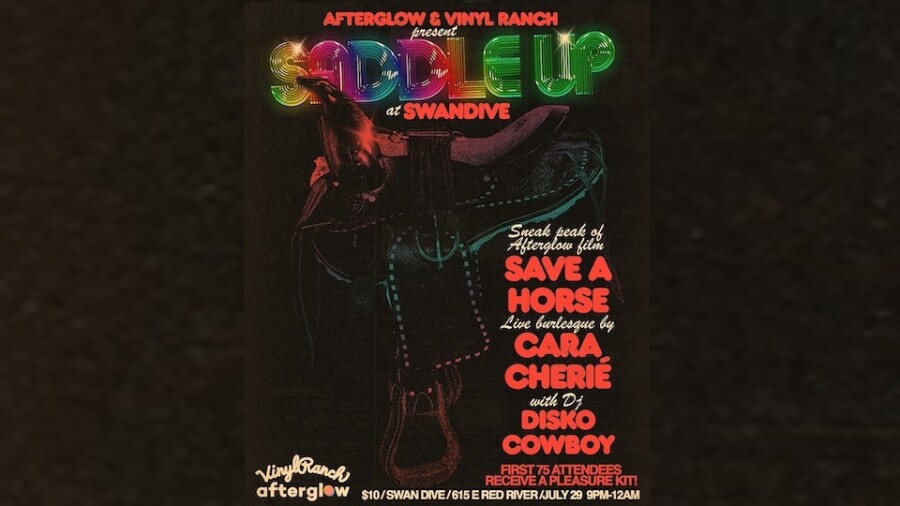 afterglow, Austin's Vinyl Ranch Partner to Celebrate 'Save a Horse' Release
AUSTIN, Texas — afterglow will be celebrating the release of the company's latest title, "Save a Horse," with a "Saddle Up at the Swan Dive" event — a one-night-only "soirée" next Thursday, July 29 — in partnership with Austin, Texas' Vinyl Ranch.
The three-hour cowboy-themed event will feature a burlesque performance by Cara Cherié, a DJ set by Vinyl Ranch's Disko Cowboy and "a few extra-special steamy surprises for its rapturous guests," said a rep.
afterglow Founder/CEO Lilly Sparks said, "We are so excited to get back into the swing of things with a night of fun, festivities and doing things 'the Austin Way' with a wild lineup of local entertainers, educators, fans and friends."
"Save a Horse" will premiere Friday July 30 exclusively for afterglow members. The title stars Maya Kendrick and is described "a lively masturbatory journey as she takes the reins of a remote-controlled cowgirl sex machine and rides high with her favorite toy against a desert backdrop."
"Saddle Up at the Swan Dive, a 21+ only event," will take place Thursday, July 29 at 9 p.m. (CDT). For $10 tickets and RSVPs, click here. The first 75 people to arrive will receive a special Pleasure Kit, including lube, a 30-day membership to afterglow and other gifts.
For more from about afterglow, visit xoafterglow.com and follow them on Twitter.