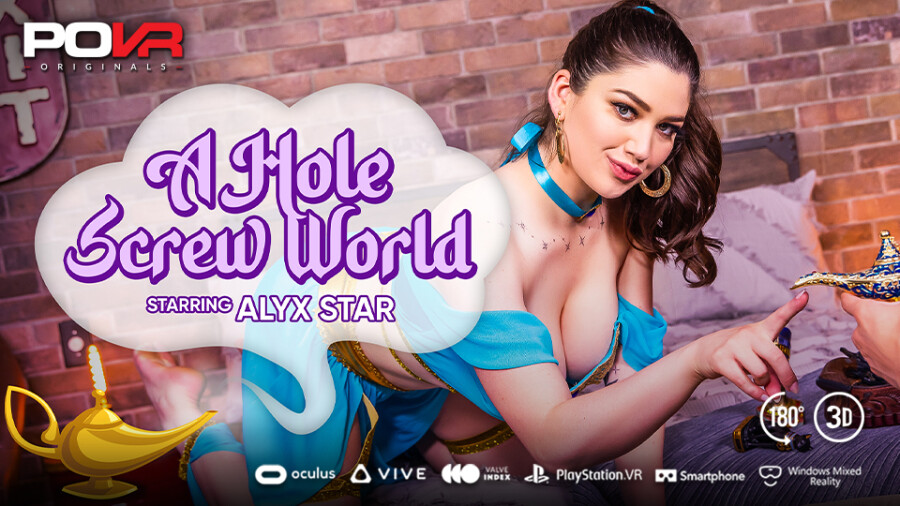 Alyx Star Toplines 'A Hole Screw World' for POVR
LOS ANGELES — Alyx Star toplines the special effects-filled parody "A Hole Screw World" from POVR Originals.
As the action opens, "Alyx is a sexy genie in a lamp, but she wants to get out," noted a rep. "After some serious rubbing, Alyx appears and she's ready to grant some wishes. First come riches, then a wish for a big porn dick. The third and final wish is for Alyx herself as this magical encounter takes a serious XXX turn."
The scene has earned an 88% approval rating among active POVR website members and includes the content tags "Closeup Missionary," "Cowgirl," "Handjob," "Reverse Cowgirl" and "Spread Eagle," among others.
"Alyx gave a stunning performance and she was absolutely perfect as our genie," POVR Managing Director Darrell Rosebush said. "I'm just as proud of the crew and editors for the use of props, expert blocking and special effects to bring this title to a whole new level. Alyx's scene shows the potential of adult VR to not only deliver realism, but also a little bit of magic and out-of-this-world fun."
Click here for additional information about "A Hole Screw World" and follow POVR and Alyx Star on Twitter.