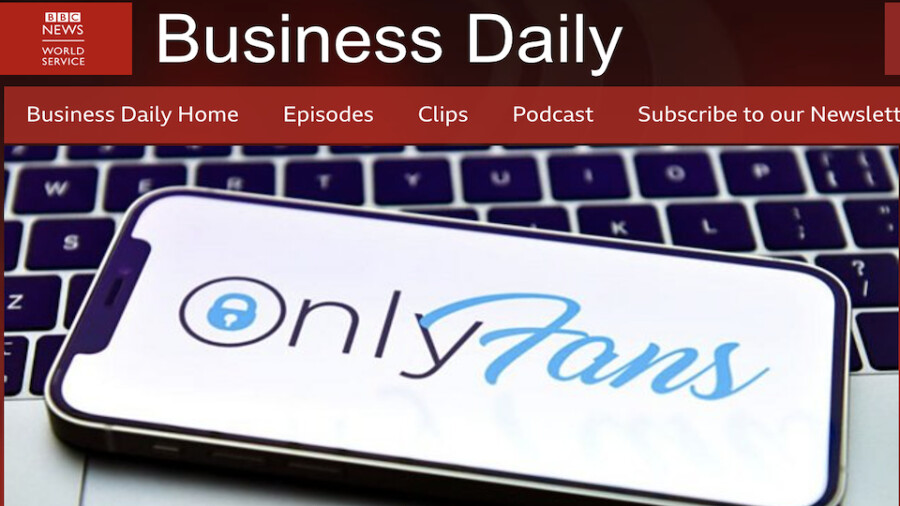 APAG, FSC Reps Speak to the BBC About OnlyFans
LONDON — The BBC News World Service aired a report today about the recent decision by Only Fans to ban adult content, later reversed under public pressure by sex workers and much scrutiny by the mainstream media.
The segment featured APAG President Alana Evans, FSC Director of Public Affairs Mike Stabile, performer and content creator Jessica Starling and Forbes reporter Alexander Konrad.
Also featured was BBC Senior Investigative Journalist Noel Titheradge, who released his investigation about content moderation on OnlyFans on the same day the ban was announced and boasted on Twitter that his report had resulted in the ban. The BBC News editors initially backed him up, with a deceptive headline that read, "OnlyFans: Platform to ban sex videos after BBC investigation." The U.K.'s state news organization later changed that headline to the awkward "OnlyFans: How it handles illegal videos — BBC investigation." Neither Titheradge nor the BBC ran a correction statement about the headline change.
Titheradge's report was later used by the Financial Times' editorial board to justify recommending the continuation of financial discrimination against sex workers and adult businesses.
Today, the BBC News World Service headlined their segment "OnlyFans flip-flops on porn," under the following description: 
Why did one of the world's best-known porn provider platforms, OnlyFans, decide to ban porn? The controversial site has become a global phenomenon over the last five years, but its decision to outlaw adult content got everyone talking. It appeared to bow to pressure from financial services companies and anti-porn groups. Then it changed its mind. We look at the pressures the company is under and also at the business logic of internet porn.
"I appreciate that the BBC wants to platform sex workers," Evans told XBIZ. "But when they asked about consent issues and trafficking claims, they left out every mention of the anti-porn groups like NCOSE which promote those claims. As we talk about the changes to OnlyFans, the concern over performer reaction has turned to questioning individual performers and sex workers about how we ourselves are responsible for monitoring underage access, as if it's our responsibility "
"They seem to want our opinion until it challenges their narrative," Evans added.