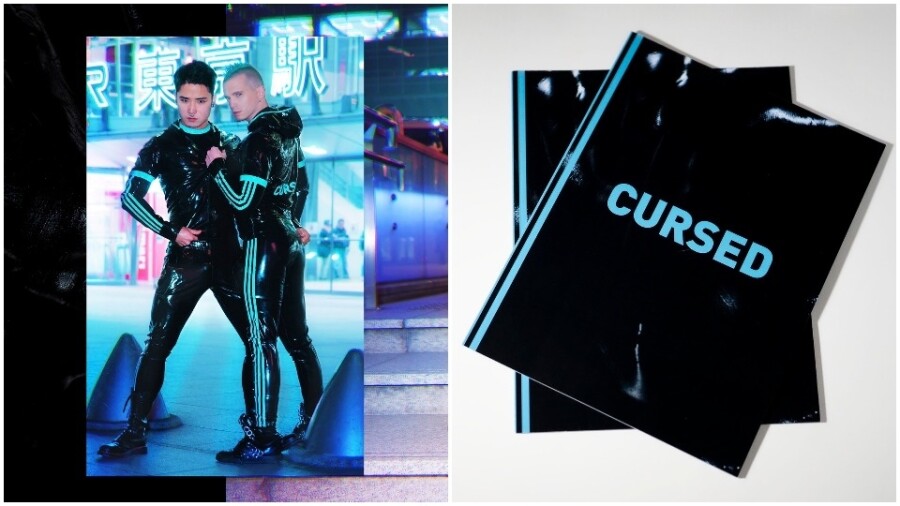 Axel Abysse, Yoshi Kawsaki Launch 'Cursed' Multimedia Fetish Project
TOKYO — Indie fetish content creator Axel Abysse and frequent collaborator Yoshi Kawasaki are touting today's release of "Cursed," a multimedia project that includes a 27-minute film as well as a photo booklet and fan contest.
"Cursed," the film, is described by a rep as "a glittering and kinky skyscraper encounter. As skyscraper lights shine upon them, Yoshi and Axel spread 'The Curse' over the city: deeper, faster, wider — they destroy their holes as hard as they can."
The "Cursed" 28-page booklet, meanwhile, was shot by Japan-based Chinese photographer Saimon and is available from Regulation London. The Soho-based U.K. fetish gear company "also customized their original rubber design UrbanX outfits to Abysse's brand with turquoise and teal lines and bands, and with 'Cursed' emblazoned across the back," noted the rep.
Kawasaki discovered "a renewed interest in wearing rubber for play" after the "Cursed" shoot.
"I've always been into rubber, the gripping tightness of rubber gear and everything, but had never done any scenes in rubber until 'Cursed.' This reminded me how good playing in rubber could be, so I may try more myself," he observed.
Meanwhile, the "Cursed" fan contest offers a chance to win one of the two outfits specifically made for the project. Abysse will select the winner and arrange prize shipping on June 7; click here for contest details.
"From the beginning, I envisioned a very precise concept. I wanted neon lights, a sleek aesthetic, reflections through glass and shiny rubber," Abysse explained. "We shot this project in Tokyo and adopted a cyberpunk touch. It's another approach to the fetish culture. No dungeon, no leather; a different smell, a different vibe."
He noted the movie and booklet "diverge in their aesthetics, as well."
"While the booklet is on a more glamour/pin-up side of things — if pinup models showed their holes — the movie is pure sleazy action with everything my audience craves. Spit, double-punching, prolapse, piss, exhibition," he said. "We fist each other by a giant window where anyone in the surrounding skyscraper could see us. It's all in there."
Abysse said the project "took some time to put together."
"I didn't want to rush it. I had a vision and didn't want to make any concessions," he recalled. "COVID didn't help, obviously, but it was worth the wait. It's finally coming and I'm very excited to share 'Cursed.' I love having the freedom to create whatever I want. And I'm very lucky to have an audience that trusts me and follows me, whatever the choices I make. It goes beyond having me just wrecking my hole. The creation process is very fulfiling."
"Filming again with Yoshi after our 'Lockdown' series was evidence of our special bond. He's my padawan," he added. "We know each other's holes by heart — it's always magical getting inside each other."
For details about "Cursed," the booklet, click here.
Find "Cursed," the film, from Kawasaki and Abysse online; for the latest updates, follow Kawasaki and Abysse on Twitter.
Visit Zbuckz for affiliate promotion; direct inquiries to dannyz@zbuckz.com.