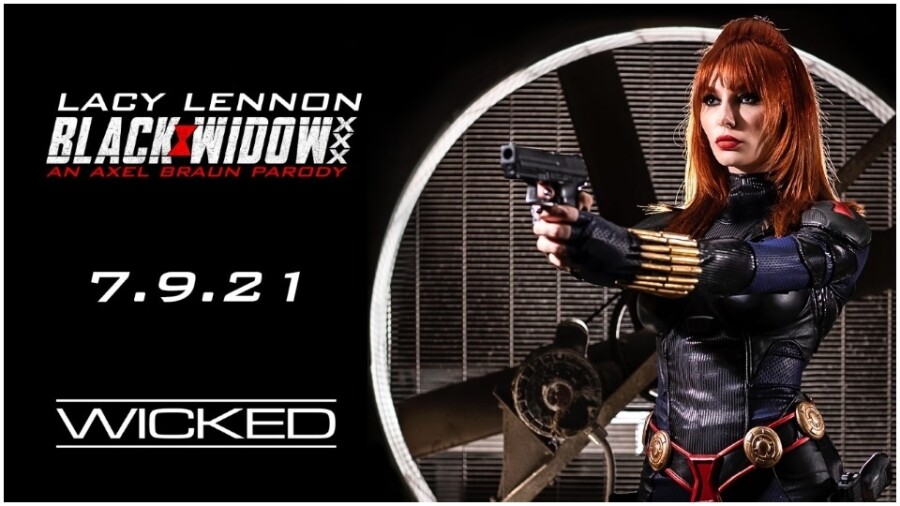 Axel Braun Posts 1st Pics of Lacy Lennon in 'Black Widow XXX' Costume
LOS ANGELES — Wicked Pictures has released promo photos featuring Lacy Lennon in character as Natasha Romanoff in the upcoming feature "Black Widow XXX: An Axel Braun Parody."
"Sleek, stylish, and just unbelievably cool, the skintight outfit, along with Lennon's classic comic book hairdo, is a reminder of the legendary attention to detail and painstaking dedication to his craft that helped make Braun the most-awarded director in adult film history," exclaimed a rep.
The photos follow Lennon's character reveal earlier this month and Lennon's account of her first day on set.
"It really does look awesome," Braun enthused. "I designed the costume specifically to be modern and cinematic, but still rooted in the classic comic depictions of the character. It was, as usual, an extremely long process, and my hat goes off to Lacy for being a real trooper and enduring dozens of fittings, but I have to admit the result is pretty remarkable, and I say that not as the costume designer but just as a huge Black Widow fan."
Two photos were released to Braun's Twitter and Instagram, respectively, garnering more than 12,000 combined "likes" in less than 24 hours.
A rep noted that Scarlett Johansson, who plays Natasha Romanoff/Black Widow in the Marvel Studios franchise, has objected to sexualized depictions of the character.
"I saw Scarlett on Broadway a few years ago, in the play 'A View From The Bridge' with Liev Schreiber, and she was phenomenal" said Braun. "That said, as a kid who grew up on Bronze Age comics, I always found her grossly miscast as Black Widow. The Gene Colan-drawn Natasha Romanoff I dreamed of one day seeing in the flesh was aristocratic, conflicted, badass and, most of all, she was an unapologetically sexual woman who loved with passion and plenty of drama, all characteristics that were completely lost in the MCU."
"All I can say is that my parody will, at the very least, rectify the 'unapologetically sexual' part," he added.
"Black Widow XXX: An Axel Braun Parody" is scheduled for release on July 9.
Follow Lacy Lennon on Twitter and Instagram; visit Wicked.com and follow the studio on Twitter.