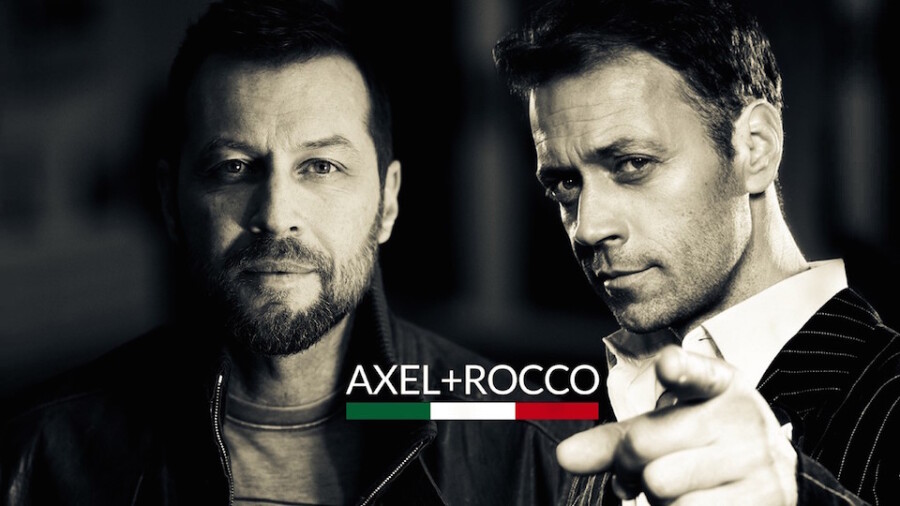 Axel Braun, Rocco Siffredi Make Rare Italian TV Joint Appearance
LOS ANGELES — Axel Braun and Rocco Siffredi were the special guests on today's 500th episode of Italy's "Doppio Senso Night," a live weekly show hosted by journalist Massimo Bonera on the Prima Free TV channel
Currently celebrating its 10th year on the air, "Doppio Senso Night" has seen hundreds of international adult stars and directors among its guests, a rep explained, "but none bigger than Braun and Siffredi, two legendary figures who have singlehandedly brought pride on their motherland with their global success in the porn industry."
The Braun-Siffredi episode, the rep continued, "got the highest rating of the program's entire 10-year run with 1,054,000 viewers, more than tripling the figures from their average of 300,000 people viewership per episode."
"I can't say I'm surprised," enthused Bonera, an adult industry authority in the Mediterranean nation for over 30 years. "Axel and Rocco are stars of a completely different caliber — one is the most-awarded director in history, the other an absolute legend among performers and an idol to men and women around the world."
'Two Icons'
Bonera described his guests as "two icons — and I knew that having them together would bring in a massive audience."
"I had been trying to get them separately for a while, which is already very difficult due to their busy schedules, and when last month they both told me they had an opening for today I couldn't even believe it," Bonera added. "What are the odds that I would be able to celebrate the 500th episode milestone with both of them?"
The veteran twosome had words of advice for a fellow guest, aspiring starlet Alyson Thor, and other women who plan on entering the industry.
"Do it only if you are really into it," Siffredi advised, "and only if you are ready and willing to go all the way. You might think your body and your beauty are the main weapons to be successful, but it is actually your head."
Braun, who has a policy of hiring performers who are at least 21 years of age, echoed Siffredi's sentiment. "This industry can give you a lot, but you need to be aware of the potential repercussions that a career as a sex worker can have on your life," he said. "Making an informed decision is the key to both your success and your happiness."
Siffredi, who last month published a book called "Sex Lessons," also cautioned viewers against relying solely on pornography for their sexual education. "What we do is a performance. We are trained professionals, and we need to make it look good for the camera," he said.
Praise for Emily Willis
Reigning XBIZ "Female Performer of the Year" Emily Willis was also part of the conversation.
"To succeed, you need to have that extra something, we call it the 'It Factor,' and that [quality] cannot be taught or learned," said Braun. "But you must also have a plan, a career trajectory, and the determination to pursue your goals. Emily Willis is a perfect example; she is smart, sexy, gorgeous, driven. Her performances are incredible and she is going to leave a long-lasting mark in the industry. She is the kind of star that comes around only once every decade, and honestly there's no limit to what she could achieve."
"Emily wanted to be a big star" added Siffredi. "She is a stunning girl with an amazing smile, very sweet, very nice and she turns in powerhouse performances in every scene. She is meticulously prepared, and she is all-in 100% with no hangups, no bullshit. Just 'wow.'"
Before ending the livestreamed interview, Braun and Siffredi, who have known each other for over two decades but have never worked together, vowed to try and finally join forces.
"I am waiting for you. I am not retiring until I can star in one of your movies," vowed Siffredi, with Braun replying: "It is my ultimate goal in this industry, and you know it. We need to make it happen."