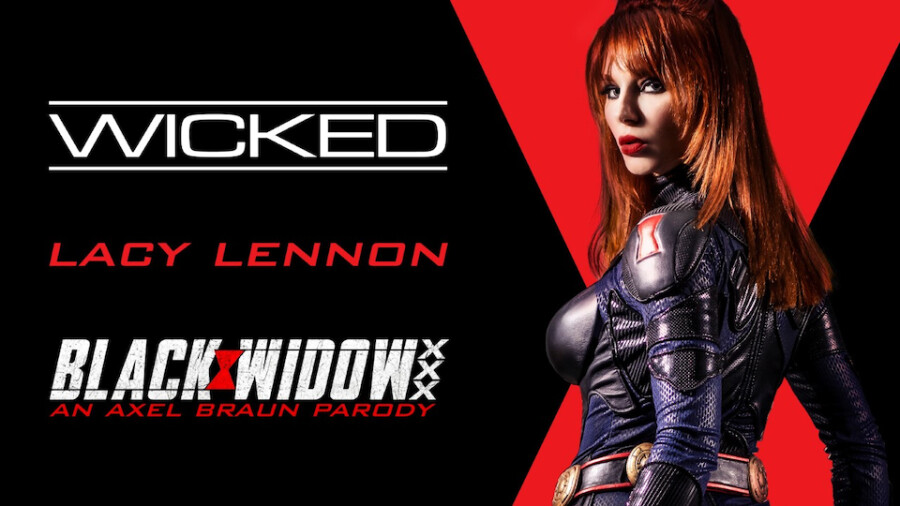 Axel Braun Unveils 1st Scene From 'Black Widow XXX'
LOS ANGELES — The first scene from "Black Widow XXX: An Axel Braun Parody," the latest entry for the Wicked Comix imprint starring Lacy Lennon, and the title's official SFW trailer, are now online.
The release was timed by director and Wicked Pictures Head of Production Braun to coincide with today's theatrical release of the mainstream version of "Black Widow," starring Scarlett Johansson.
"For his 61st parody — the first one in almost two years after a voluntary pandemic hiatus — Braun pulled out all the stops and delivered a big-budget, fast-paced, hysterically sexy spoof," said a rep. "And he found the perfect star to bring Natasha Romanoff to life: Lacy Lennon."
"This movie simply wouldn't exist without Lacy," said Braun. "The energy she brought on set, her level of commitment to the role and to the project, the amount of preparation and training she did — she was simply outstanding."
Braun explained that Lennon, a "hardcore comic book geek," understood the character "down to its core, as I knew she would, and, of course, being one of the industry's top female performers the sex scenes are off-the-charts, but I gotta admit I wasn't prepared for her absolutely amazing acting prowess. All I can say is, 'Holy shit.'"
Braun added that Lennon "will surprise a lot of people: she is unbelievably good."
The director quoted a top Hollywood producer who observed, after watching the parody, that "the lead girl should be in mainstream — that's some amazing acting right there."
"His feelings pretty much sum up the stellar performance that Lacy was able to deliver," Braun added.
Lennon Leads Star-Studded Cast
Lennon gave her thoughts about the production.
"When you are passionate about what you are doing, every moment on set doesn't feel like work, but instead it feels like we are refining our craft until we produce Axel's utmost vision," she said. "Some days were long, while others were shorter, and I was sad when the production came to an end because I would do it all over again in a heartbeat."
"Being on set with some of the most elite talent in the industry really made me step up my game," she added. "I felt honored that Axel cast me as Black Widow, so it was almost as if I had something to prove. I found myself choked up a few times throughout production and that is because Axel, the crew and my fellow performers made me feel special."
A trained opera singer, Lennon previously played Jean Grey in Braun's XBIZ award-winning "Captain Marvel XXX" and sang the film's theme song "Asses," a spoof of Celine Dion's "Ashes" from "Deadpool 2."
XBIZ award-winning actor and Gamma Films contract performer Seth Gamble reprised his Deadpool role for "Black Widow XXX."
"It's always a hoot to play Deadpool," said Gamble. "This role means so much to me, it gave me an XBIZ 'Best Actor' award and I feel it was really the resurgence of my career. It's so much fun to step back into that costume and really let loose, and it always brings back all the amazing memories of working with Axel, which is always an awesome experience. We had a blast on this movie, and watching Lacy put so much passion in her role was almost surreal. She totally killed it."
Reigning XBIZ "Male Performer of the Year" Ramon Nomar appears in the role of Taskmaster.
A rep explained that fans "unhappy with the re-imagining of Taskmaster's costume that Marvel made oddly similar to a Power Ranger, have praised Axel's canon portrayal, which brought to life the classic comic book version of Tony Masters, complete with skull mask and Brooklyn accent."
Braun cast Russian-born, six-foot-tall Elena Koshka to play Natasha's "frenemy" Yelena Belova, the "other" Black Widow.
"With her supermodel looks, Elena may very well be the most beautiful woman in the business, but she is also incredibly funny and such a giving, gentle soul," said the director. "Having her on board was awesome, not only because she helped tremendously with the Russian dialogue, but most importantly because she brought to the set a massive amount of kindness and positive energy that became super-contagious among cast and crew."
Casey Kisses plays Petra, a dominatrix "who lends more than a helping hand to Natasha," said the rep. Rounding up the supporting cast are Mick Blue and John Strong.
To watch the first scene of "Black Widow XXX: An Axel Braun Parody," visit Wicked.com.
To watch the SFW trailer, visit Wicked's YouTube channel.
The next two scenes are scheduled for release July 23 and August 6. A collector's edition Blu-ray disc is slated for a January 2022 release.
"Black Widow XXX" will also be offered simultaneously to cable operators and satellite providers; this will mark the first time a Braun title has been released on all platforms simultaneously..
For more from Wicked Pictures and Lacy Lennon, follow them on Twitter.