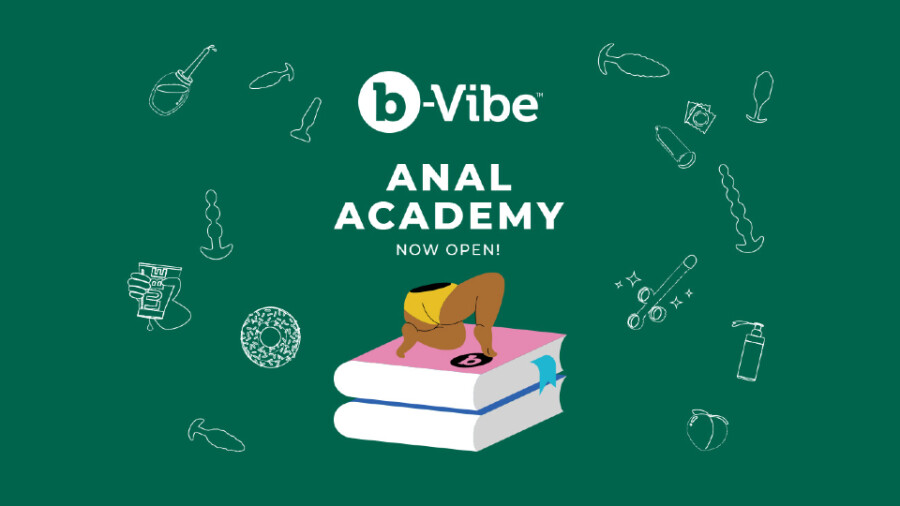 b-Vibe Launches 'Anal Academy' Resource, Education Hub
LOS ANGELES — b-Vibe has announced the launch of "Anal Academy," a hub on their website with information and resources from educators and content creators about anal hygiene and play.
The resources "cater to visual, auditory and reading learners featuring content in video, audio and written word format," a rep explained.
Highlights include an extensive "Booty Blog" with "over 75 educational articles, all written by sex educators on a variety of topics related to anal play prep, hygiene, stimulation techniques and more," continued the rep. "b-Vibe offers complete guides to everything related to anal, with well-rounded education that's suitable for students of all skill levels to confidently enter the world of 'butt stuff.'"
Additional features include the "Encyclopedia Buttannica" — a glossary of terms "related to the booty" and "The Plug Podcast," hosted by Luna Matatas, which "takes anal sex to an even deeper level with interviews from leading sex experts," the rep said.
The "Butt Stuff Basics" is a video series featuring sexperts and educators answering questions about common myths related to anal sex, while "Seducing the Butt" workshops are intended to teach viewers how to expand their anal knowledge with "tips and techniques for sexual confidence, erotic creativity and hotter butt stuff," noted the rep.
The "Anal Academy" launch coincides with the monthlong "Anal August" event as well as the celebration of b-Vibe's fifth anniversary.
"We feel that sex education is a lifelong journey that can raise a lot of questions," said Alicia Sinclair Rosen, founder and CEO of b-Vibe parent company COTR. "b-Vibe's 'Anal Academy' aims to foster an approachable learning environment for anal play newbies, as well as anal aficionados of all experience levels."
"Our new academy offers a wealth of information and resources to empower every booty," she added.
Click here for additional details, email sales@bvibe.com and follow b-Vibe on Twitter.