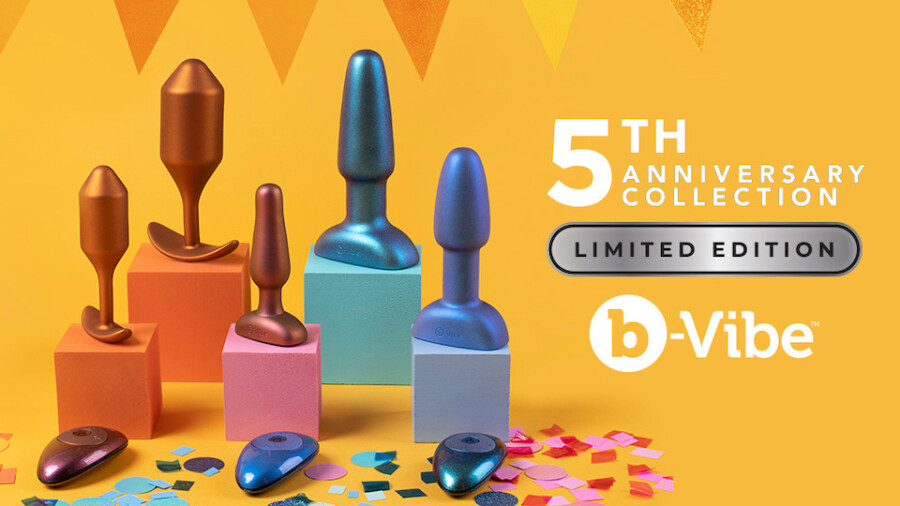 b-Vibe Marks 5th Anniversary With Limited Edition Collection
LOS ANGELES — b-Vibe is celebrating their half-decade with a new "5th Anniversary Collection" of anal plugs.
"Just in time for 'Anal August,' b-Vibe is rolling out the 5th Anniversary Collection, featuring a comprehensive roundup of b-Vibe classics that deliver out-of-this-world pleasure and captivate with their dazzling looks," said a rep. "Available in new metallic colors are b-Vibe's signature Rimming Plug 2, Rimming Plug Petite, Novice Plug, Snug Plug 4 and Snug Plug 2."
The b-Vibe Rimming Plug 2, the latest edition of the b-Vibe's flagship product, is "still plugging away more phenomenally than ever," the rep added. "The Rimming Plug 2 changed the game as the only plug on the market that rims while it vibrates for a dual sensation and intergalactic-level orgasms."
The new limited-edition metallic Rimming Petite Plug is a smaller version of the plug "offering glitz and glam, and promising to provide stimulation in style with 30 feet of remote control range," the rep added.
The Novice Plug is designed as "a booty ambassador to beginners" and is now available in limited edition metallic pink." The limited edition Snug Plug 4 is available in a sparkly sunburst color, and the Snug Plug 2 now comes in a copper shade.
"We launched b-Vibe with a mission to change attitudes towards anal play by offering more than a product," b-Vibe founder Alicia Sinclair Rosen said. "Since Day One, b-Vibe has prioritized sex education as a primary tool to dispel myths and overcome taboos by including useful information with every item. We also include fun extras to encourage more positivity around sex, and particularly anal play."
Rosen said the company is "beyond proud and pleased that our message has resonated with so many consumers and adult retailers around the world over the past half-decade — cheers to all of our supporters."
For more information, email sales@bvibe.com and follow b-Vibe on Twitter.