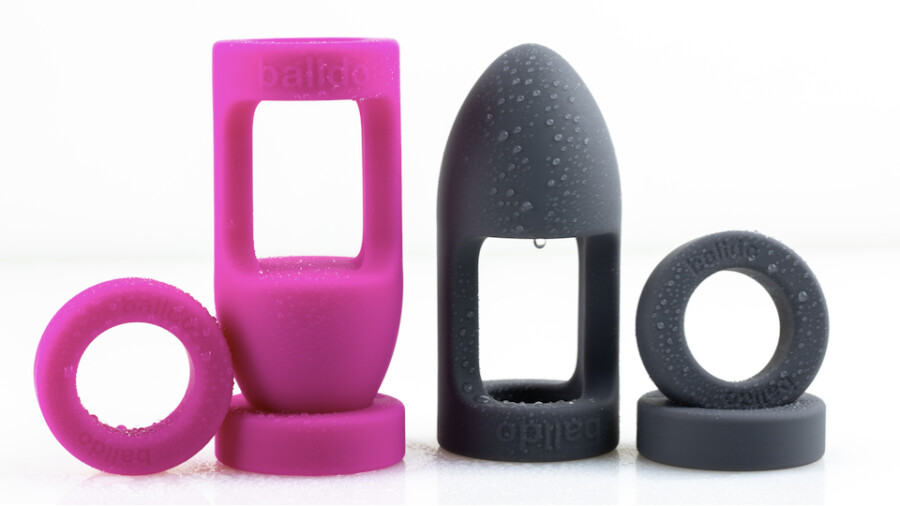 Balldo Announces Official Product Launch, Immediate Shipping to Wholesalers
LOS ANGELES — Nadgerz Inc. has announced the official release of the company's flagship product, the Balldo, which is now shipping to wholesalers.
The Balldo is a stretchy, silicone device made to fit comfortably over the testicles, turning the wearer's balls into a secondary penetrative tool.
"The Balldo is a true innovation in the world of sex toys for couples," Nadgerz Co-Founder and CEO Jerry Davies said. "I think with Balldo and 'ballsex,' we have definitely carved out a new niche that's here to stay."
The Balldo is stretchy enough to fit testicles of most sizes and is outfitted with additional silicone spacer rings, which brace the Balldo against the groin, making it erect like a penis for thrusting. A patented inner core allows the Balldo to maintain rigidity while thrusting.
Nadgerz and the Balldo received two XBIZ Europa Awards nominations last year in the categories "New Pleasure Products Company of the Year" and "Innovative Sex Toy of the Year," respectively.
"There is really nothing else like this out there," said Davies. "We are currently partnered with Entrenue in the U.S., AADP in Australia and EDC in Europe, and look forward to watching ballsex start a new consumer trend out in the retail wild."
Along with the official product launch, the company also announced that it has appointed industry veteran Jeff Dillon to the role of VP of marketing.
"We are looking forward to becoming the next, big industry niche, eventually becoming as popular as anal play," said Dillon. "Once men discover the pleasure of having an orgasm, aka 'ballgasm,' triggered with their balls, Balldo is sure to be a hit.
"Most people already know about penis and prostate orgasms, but the ballgasm is a third way men can have an orgasm, which is very intriguing, exciting and novel for most men and couples."
For wholesale and retail inquires, email jerry@nadgerz.com or fill out a distributor form here.