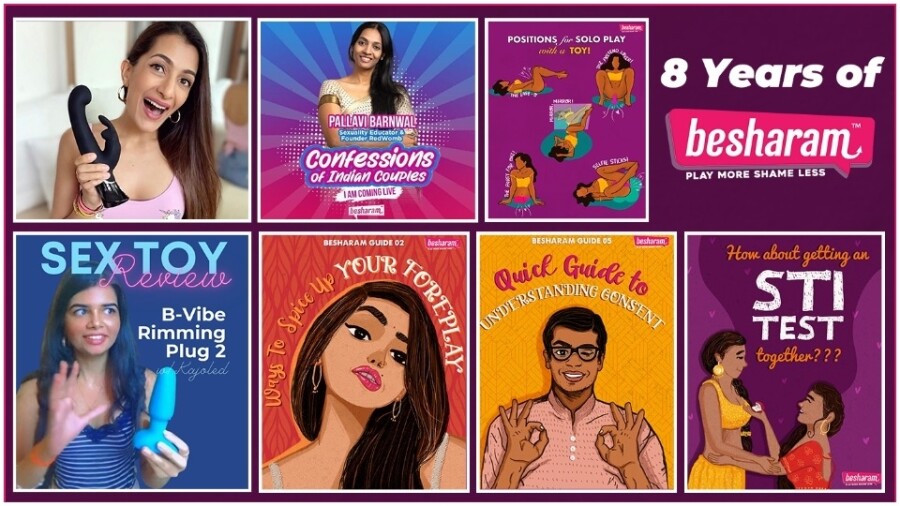 Besharam Marks 8th Anniversary
ATLANTA — Besharam is celebrating its eighth anniversary as "India's largest and most-loved adult store."
As it marks the anniversary, Besharam continues to "evolve in its vision to build, support and promote a sex-positive community and normalize use of sex toys in India," a rep said.
"It is ironic how India brought Kama Sutra to the world, but shies away from even talking about sex. It is also the second-most-populous country but having pleasure in sex and talking about sex is against the populist culture," the rep continued.
"Besharam set out to bring a sexually liberating revolution and advance sex positivity in the country. We are moving forward with a vision to make the sex lives of every Indian better and to bring a dynamic change in the way India talks about sex," said the rep. "We are also educating about pleasure, pleasure products and their use for folks of all genders and sexualities by starting conversations that need to be made in Indian society around safer sex, pleasure, orgasm, kinks, toys and accessories. All of this with one orgasm at a time."
The rep cited "eight major accomplishments" over the past year during the pandemic:
"Great Indian Sex Survey" and "India in Bed"

When the world was hit with the pandemic and everybody was locked inside their homes, there were many who explored their own sexuality and pleasure. At the same time, IMbesharam found an opportunity to talk to more than 2,000 Indians across the length and breadth of the country, to all ages, genders and orientations, about what they like in bed and how they like it. A survey that analyzed Indians' sexual fantasies, frustrations, relationship with pleasure, idea around oral sex and anal sex, masturbation, porn and much more. Click here for details.

Sponsored and supported online and offline sex-positive events and communities

Besharam is one of the very few brands that caters to folks of all genders. Not just with an inclusive range of products but also with major initiatives. Over the years, Besharam has proved to be a responsible ally and extended their support to LGBTQIA+ organizations like Gaysifamily, Agents of Ishq, Feminism In India, Kweens of Kolkata, Shivtensity, Shhhoutofficial and many more to conduct workshops and events. Click here for details.

Took a strong stand opposing 'sex is against Indian culture' adage

We challenged the claim that sex is against Indian culture, bringing in Indian representation to sex-positive content and making pleasure-centric sex-ed accessible to all using major social media platforms. We rallied up several such conversations and influencers along with experts and advisors who believed in the same vision and partook into sharing their opinions through our platforms.

Collaborated and worked with experts from the sex-positive space in India to forward the vision 

We have worked with leading sex-positive content creators and sexual health experts like Leeza Mangaldas, Kajol Tyaagi, Indraja Saroha, Natasha, Roshni, Pallavi Barnwal, Dr. Niveditha, Dr. Tanaya, Swati Jagdish aka Maya's Amma, Niyati Sharma, Dr. Varuna, Sachee Malhotra, Popkast with Garima, Apurupa Vyas and others. When it comes to Besharam's social media channels, with every piece of content the aim is to normalize conversations around sex and sex toys. The influencer collaborations and collaborations with sexual health experts are also contributing towards the same vision. Having worked with sex educators and content creators from sex-positive space of India, we are planning to have more and more mainstream content creators, influencers and celebrities talk about sex and sexuality even though their primary niche isn't necessarily content around sexual health.

"The aim is to make people talk about sex toys like they would talk about makeup products and talk about orgasms like they talk about positivity on the internet. Last year's lockdown did make more people comparatively aware about words like 'Vulva' and 'clitoral Stimulator' but they still can't say it like they would say 'blender' or 'eyelash curler,'" Social Media Manager Saloni Shah said. "Both makeup and sex toys are beyond 'roti,' 'kapda' and 'makaan' (necessities like food, house and clothing). We don't need them, we want them. Hiding behind the veils of 'sharam' (shame), people are just unable to vocalize what they want. The content creation and collaborations are a strategic move to change that in the society."

Took matters in our own hands and helped start the buzz around uncomfortable topics

While our products are helping every individual to take the matters in their own hands — quite literally — Besharam is talking about a variety of subjects that are not spoken about that freely: the orgasm gap, masturbation, female pleasure and pleasure-centric sex education are some of the offering on our social media platforms.

Supported other Indian sex-positive initiatives and brands

No matter how much we talk about things we generally shy away from talking about, it will never be enough so Besharam has backed many initiatives and brands that are bringing little revolutions of their own in India's relations with sex positivity. Whether its doing a cool podcast with Garima Surana or supporting and sponsoring initiatives by Pallavi Barnwal or promoting Niyati Sharma's book for sex-ed,  Besharam has worked with coolest female-founded brands working around pleasure in India including ThatSassyThing and Imbue Naturals.

Sex-ed workshops

While making pleasure-centric sex education accessible, Besharam has started with a series of workshops to make sure that the sex-ed reaches the right people. We are in this to make the real impact.

COVID relief and support of Mission Oxygen in India

Think online auction of a sex toy? Now think, 'online auction of a sex toy for a cause.' Besharam did not miss out on making their contribution to COVID relief when India was hit by the second wave. We worked with organizations like Mission Oxygen, SEVA and did our bit with testing for the country.
The Besharam rep cited "slow and steady steps to make 'right to pleasure' mainstream," noting that sex-positive space in India has witnessed "a huge shift" not only in conversation but in numbers of people participating in the conversation.
The change has been "extremely evident in the past year" during the pandemic lockdowns.
"The sex-positive space in India, even on the social media platforms, was limited to a few creators with active, impactful and influential content around sex and sexuality. With our social media platforms, we are trying to create, amplify and normalize conversation around sex and sex toys without any fear of shame and judgement," added the rep.
"Delightfully, In the past few months we have seen so many young Indians actively participating and working towards the normalization of these conversations," the rep said, adding that certain mainstream celebrities and influencers have talked about sex toys "like never before."
"It has definitely created an impact on our business as well," concluded the rep. "It is crucial for us as a society to remove the shame, stigma and taboo around prioritizing one's sexual needs."
Visit IMBesharam.com and follow the company on Twitter and Instagram.