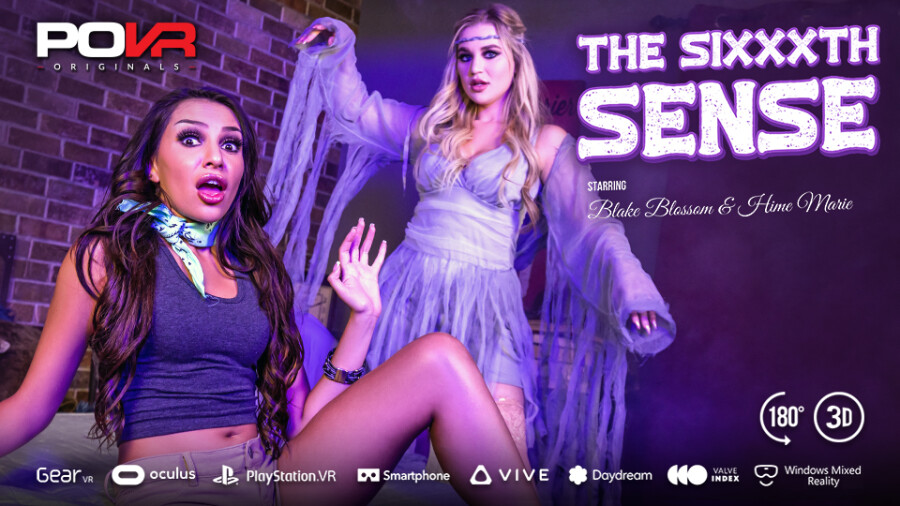 Blake Blossom, Hime Marie Star in 'The Sixxxth Sense' for POVR
LOS ANGELES — Blake Blossom and Hime Marie mark their debuts for POVR Originals with the erotic VR parody "The Sixxxth Sense."
"Hime is the hottest ghost hunter in town and this time she thinks she's got one," a rep teased. "While setting up for a spooky recording, Hime has more than paranormal investigations on her mind. While she indulges in some dick, Blake appears out of nowhere — gh-gh-gh-ghost! To help settle this sexy haunting, Hime plays her part in helping Blake get off."
"Is that ectoplasm all over the place or is that jizz?" asked the rep.
The 49-minute scene currently rates 100% among active website members and includes the content tags "Doggy-Style," "Handjob," "Sixty-Nine," "Threesomes" and more.
"Blake and Hime have always been regarded as top performers and for them, we really wanted to do something special," POVR Managing Director Darrell Rosebush said. "We generally put a lot of work into the pre-production part of the process but this time we had extra opportunity to align with production crews for special effects and other fun elements. Both Hime and Blake did a superb job with this scene and I predict it will become a big fan favorite."
Click here for additional details about "The Sixxxth Sense" and follow POVR, Hime Marie and Blake Blossom on Twitter.