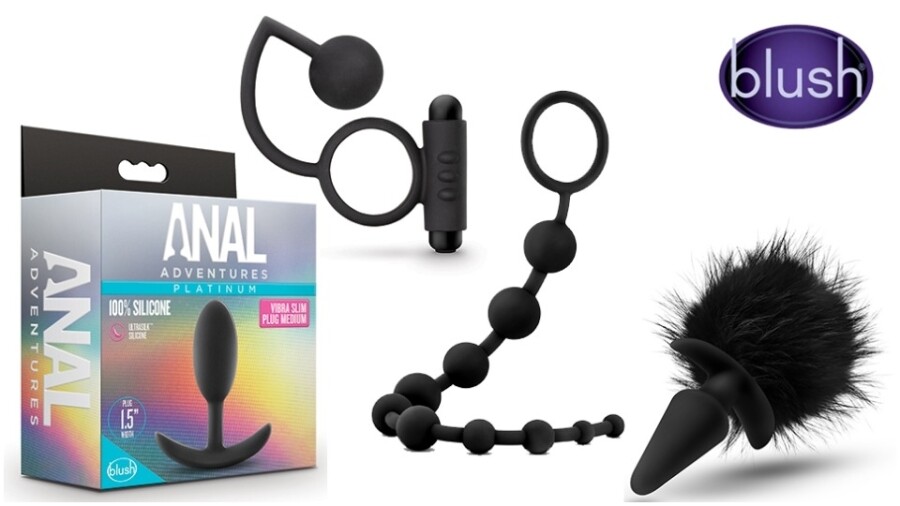 Blush Expands 'Anal Adventures Platinum' Collection
GARDEN CITY, N.Y. — Blush Novelties has announced an expansion of its "Anal Adventures Platinum" collection with anal plugs and prostate stimulators for all experience levels.
"Blush has proudly expanded its popular Anal Adventures line with 30 new SKUs," explained a rep. "A favorite among adult retailers and shoppers alike, Anal Adventures Platinum features a range of Ultrasilk Silicone plugs, anal beads and prostate massagers enhanced with attached vibrating C-rings that take users from beginner-level insertion to advanced simultaneous stimulation."
The new Anal Adventures releases include "familiar shapes and in-demand designs":
The Vibra Slim Plug, described as "beautiful [and] comfortable anal plug featuring an internal weight that adds a full, weighted sensation and stimulates as the user moves"
The Rabbit Tail Plug with "a slick, tapered design for easy insertion equipped with a lush, fluffy bunny tail at the end"
The Silicone Vibrating Prostate Massager, which delivers "10 speeds of powerful rumbly vibration with a curved design for deep, firm prostate stimulation"
"Anal Adventures has a little something for everyone and we're excited for the expansion to hit our customers' shelves," Blush Sales Manager Nancy Cosimini said. "Whether they're looking for vibration, a beginner's plug, prostate stimulation, or anal training, Anal Adventures has what shoppers need, which has helped make it such a stand-out brand."
"Each item is created with comfort in mind and the variety make it easy to find an anal toy style with a little extra enhancement, from a little extra curve to a thicker base and neck," added Cosimini. "These new SKUs and their shelf-popping color-gradient packaging will give adult stores something new and exciting to showcase this summer."
For retail support, each product is shipped in "a sturdy silver box enhanced with a sunset-esque gradient and bright teal accents," the rep said. "The packaging features an image of the product inside and make for beautiful, coordinated shelf or slat-wall displays. Promotional banners are also available."
For more information, visit BlushLove.com and follow the company on Twitter.