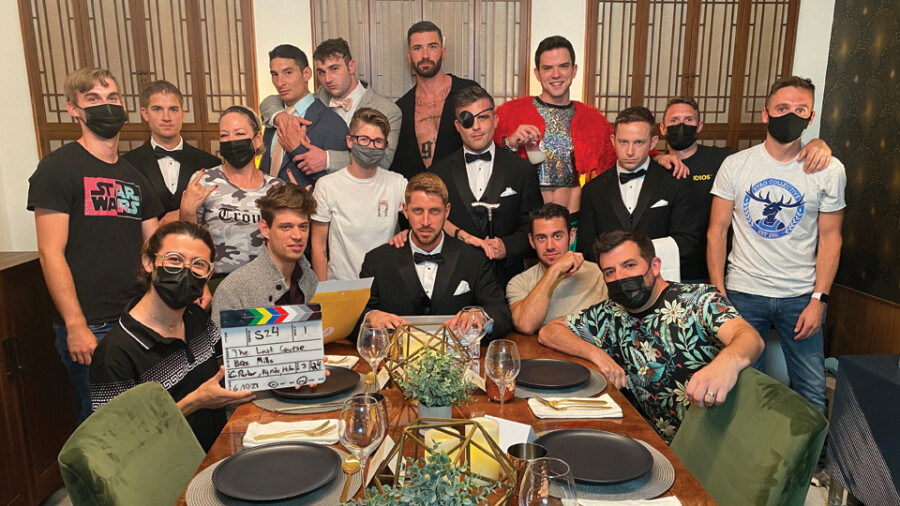 Bree Mills Discusses Launch of Gay Brand 'Disruptive Films'
Bree Mills, the CCO of Adult Time and prolific XBIZ Award-winning filmmaker of such disruptive titles as "Perspective" and "Teenage Lesbian," is active and animated on a Zoom call as she talks about the launch of her latest studio. It's an A-list collaboration between Mills, Gamma Films Group and Alpha Studio Group, the production arm behind Next Door Entertainment, Pride Studios and Active Duty.
The birth of a new gay adult studio has become increasingly rare, so the recent announcement about Disruptive Films understandably made waves. The launch crew, which includes Next Door producer-director Walden Woods, has been working under the radar for most of the past year. Over the summer, however, Disruptive splashily announced its first feature, "The Last Course," led by the criminally underrated Johnny Ford with a star-packed ensemble cast that includes Brandon Anderson, Michael Boston, Cameron Dalile, Chris Damned, Michael Delray, Jim Fit, Trevor Harris, Johnny Ford, Johnny Hunter and Dakota Payne along with 2020 XBIZ "Male Clip Artist of the Year" Lance Hart — in one of their final features before announcing their transition to Lucy Hart — and reigning XBIZ Performer of the Year Dante Colle.
The tagline for Disruptive is intriguing: "If you could invite all the men you've had sex with to the same dinner party, what would you do to them?" It's a premise ripe with dramatic potential.
Mills notes that she started envisioning Disruptive and its initial productions back in November 2020. She'd already worked with much of the cast in episodic content prior to doing the feature and felt the pull of untapped potential.
"I don't write line-by-line scripts; I essentially write elaborate stories and then work with my actors to really bring them to life and flesh out the dialogue," Mills recalled. "So my preference is to go into these productions with a good idea of who I'm working with. Once I get a chance to work with somebody, I not only get to see if they adapt to this style, I get to see who they are. I like to write characters for actors, not the other way around."
She had worked with Ford twice before casting him as the mysterious figure at the center of "The Last Course."
"I was really impressed with one of the episodes that I shot of him — not only is he a great guy and a great time on set, but I was really impressed by his performance," Mills continued. "He gave a darker performance in this episode we had done. I kind of wanted to throw a curveball with the [lead] character of 'The Last Course.' It's a three-act story and you don't actually meet him until well into Act Two, but he's very much the subject of the entire film. And I thought it would be a great opportunity to give him that stage, where he may have been overlooked in the past, and really bring what I was seeing from his work ethic and to give him that opportunity. And to be surrounded by some of the most popular guys in the business."
I note that Colle, Hart and Payne, as well as costars Michael Boston, Michael Delray and newcomer Chris Damned, make up quite a formidable cast.
"It really is an ensemble piece," Mills agreed. "There isn't one person who has more of a role than the others. I was really happy to give Johnny that opportunity and to see him kick ass, which he totally did."
Mills then revealed that producing gay projects and content has been on her "bucket list" for several years.
"At this point I've made films in almost every sexuality and gender category," she said. "I knew, for the first [gay] feature film, I wanted it to be representative of the studio at large. With Disruptive, we really wanted to come in being the most original studio for story-driven content. We have a few different series we're shooting for, but [we are] also keeping pretty fluid, experimenting, evolving."
She described a forthcoming "dark drama series" called "Taboo Men," as well as a "comic book series" with interconnected characters and ongoing storylines titled "Deep Inside" and "a more realistic, relatable drama series" they've titled "True Male."
"And then we have our originals, where we get to play and say, 'I have this idea,'" Mills shared. "'Let's test it out and see what people think of it.' I wanted the first feature to be representative of the studio and all the different subjects we touch within the studio."
Mills had already been shooting at a particular eye-catching location used for the film, she explained. "When you see it, it's a character in itself, a midcentury modern house. I wanted to move in."
Thus inspired, she set about building up the ensemble cast and the circumstances that would bring together these disparate characters. A noted cinephile, Mills drew inspiration from queer films and theater, starting with Mart Crowley's controversial classic "The Boys in the Band" (recently remade by mega-producer Ryan Murphy for Netflix).
"Of course, 'Boys in the Band' comes to mind, even though when you look at that film today it's definitely dated, but it was so incredibly important and influential when it came out in the early '70s," Mills said. "And it is also a story about bringing together every possible gay archetype in the same party. And so I thought, 'What if we brought together all these different gay personalities? People that you would recognize from the community — all sides of it? The good, the bad and the ugly.' We brought them together for a dinner party. And wouldn't it be interesting if their stories had this one common connection point — but everybody's perspective on that connection point was very different? And so that's where the mysterious element of the film comes out."
"It's 'Boys in the Band' meets 'Clue' with a bit of 'The Handmaid's Tale' thrown in for good measure," she says with a grin. "That's all I'm going to say about the plot."
"Sold," I immediately reply. "Take my money."
Our conversation then pivoted to the cinematic aesthetic of "The Last Course." The camerawork is very present, as if it's an unseen character itself. That's not how gay adult is usually filmed; there's usually a remove between the actors, camera and audience.
Mills agreed, "Yeah, I've been working primarily with handheld, cinéma vérité cinematography for the last four-plus years of my career. And the reason why is just the subject matter that I deal with. I tend to gravitate to stories that are pretty rich with emotion; it's not necessarily black-and-white, good-guy-bad-guy. I really believe that's true of real life; we're all flawed. And so I like to show, within the dynamics of my characters, the rawness of those relationships. And that's very hard to do when you're back on sticks. It might be pretty, it might be framed well, but the viewer doesn't feel what the characters are feeling. With my work, I really, for the most part, whether it's a docuseries or a narrative project, I want you, as a viewer, to feel what the characters are feeling and to feel affected by what you watch. You might not like it, but you're never gonna forget it."
Ever since her award-winning autobiographically- inspired "Teenage Lesbian," Mills has been experimenting with a blend of objective and subjective cinematography.
"My camera is what I want the viewer to feel," she said. "So there are moments in 'The Last Course' where you are objectively watching a situation unfold. And that's intentional; I want you to feel that disconnect. But when we follow a character, I switch from objective cinematography to much more subjective where, all of a sudden, you are with that character, seeing that bead of sweat, those additional shots that show just how they're feeling. And I like to mix the two because that's how life is. That's something that's worked for me the last few years and it's certainly what we brought into this film and what you will see from Disruptive at large, a mix of controlled shots and more intimate, handheld shots, depending on how we want you, as a viewer, feel."
This style that Mills described helps make the material stand out and bear up under repeat viewing, and our conversation shifted to how there is a certain sense of disposability that has settled into gay adult content. There are companies, certainly, that produce storylines and character-driven stuff, like CockyBoys, Helix Studios and NakedSword Originals. But there is a disposability that is certainly driven by economics, if nothing else.
"It makes sense," Mills observed. "Adult content, especially over the last 10 or 15 years, has become disposable. It has gone from being content that you primarily have to pay to access to content that nobody has to pay to access. And you only pay to access it if there's something else that you're trying to get out of it, not just because you're horny on a Friday night."
She noted "a huge shift in how the content is consumed."
"It has had a financial impact on the people creating it," Mills expressed. "It's much less about [saying] 'I'm going to spend six months to make this amazing film' and more, 'Holy shit, I've got to get these six updates out and I'm just going to use the same house to keep my costs low.' You can feel the fatigue of change," she said. "But it also gives companies like CockyBoys or Disruptive the opportunity to stand out without it being too difficult to stand out. You just have to take the gamble that investment will pay off. I think people are so starved for this content and they're not seeing it in any meaningful way. That's certainly been my experience, historically, in building studios when we were doing something different than everybody else. Pure Taboo is a perfect example — now, I look around and see a gazillion Pure Taboo knockoffs."
She then laughed as I admonished her for helping to unleash an utter tidal wave of so-called "family role-play" content. But the source material for Disruptive Films can also be seen in such warmly received brands as "Transfixed" and "Age & Beauty" for Adult Time.
"When I started Pure Taboo, which is really the first straight studio that I developed, the thing that I caught on to very quickly was not even so much the taboo subject matter — that was the obvious macro — but what I really saw happening on the ground was that if you treat adult actors like actors, and you treat the subject matter seriously, people take it seriously," she explained. "And so I was seeing incredible performances come from actors who cared; they wanted the [footage] for their reels, they wanted to join SAG/AFTRA. They wanted that boost of confidence. They saw how there was value for them beyond just how they look or the sex acts they perform."
She then joked that she is "a really lousy pornographer."
"I really am, in the classic sense of the word, because I love telling stories and sex and sexuality is an evergreen subject matter," Mills continued. "It's so fascinating and central to our psyche in very unique ways. But it's the stories that I'm driven by more than anything. And I'm working with professionals who can really put on a good sex performance, so if I can work with them to get that character, and have that carry through the sex, then together we can make a good scene."
She returned again to an ongoing and fruitful source of inspiration.
"I am really inspired by the desire for models to show that side of their personas and I very much feel the same thing within the gay male performer community," she enthused. "'Oh my god, I spent the whole day acting! This was really fun.' They weren't just given shitty dialogue or another overused trope just because it's popular in ads. That, to me, is evidence enough that we could put out a great brand. A great product starts with a great production. If your production means something to the people making it, then it will ricochet out to their fans and to fans in general."
She again names the male performers who will appear in the launch slate for Disruptive. "I almost feel déjà vu. They're so untapped; they want to act. And they're good," she said. "We just need to give them the chance."
"The Last Course," the inaugural production of Disruptive Films, will be released in September.
Images: Disruptive Films