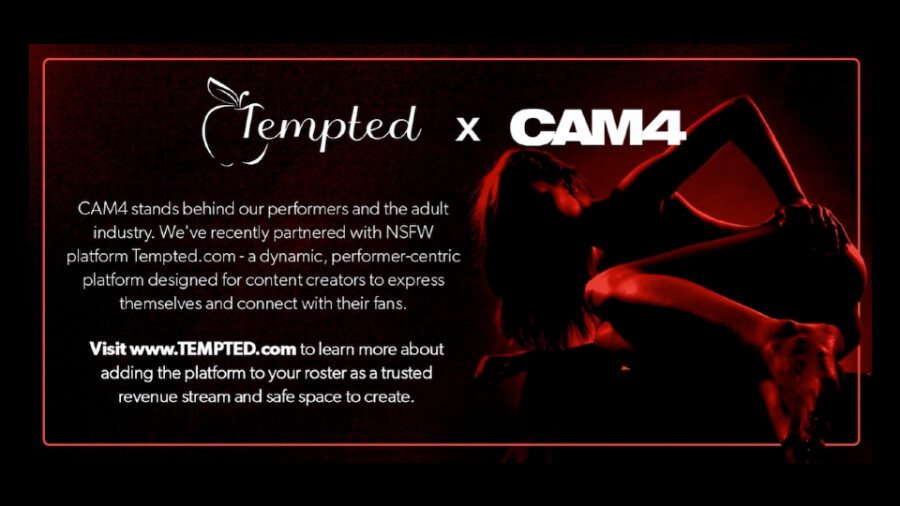 CAM4 Partners With Adult-Friendly Platform 'Tempted'
LOS ANGELES — CAM4 has partnered with Tempted.com to offer an alternative solution to content creators who are looking to diversify their income stream or migrate their content to a new platform.
"CAM4 chose Tempted as their official partner because both brands are unapologetically committed to remaining a platform of free expression; always. Performers from all walks of life are welcomed and encouraged to engage freely with their loyal fans on the Tempted platform," explained a rep. "The site also offers performance coaching and a wealth of features and functions to help content creators stay lucrative in this dynamic industry."
Features include live shows, ongoing referral programs and a virtual party show functionality which allows performers from all over the world to appear together in one multi-screen view.
"The adult industry has built so much of the internet and its digital platforms, yet [the platforms] are so quick to drop the morality card and abandon the very people who've made their businesses a success," CAM4 Communications Manager Shannon McD said. "We're thrilled to partner with Tempted as it is dynamic, performer-centric and constantly evolving while staying true to its NSFW roots."
Eve, described as "the voice of Tempted," noted the platform's "commitment to sex workers, content creators and those who wish to monetize the content they create has been our focus since we launched."
"Our commitment to 'Temptations' [aka creators] and fans alike is to provide a safe place where they can share and enjoy content without fearing this type of censorship," Eve continued.
Visit Tempted.com and follow the platform on Twitter and Instagram.
Find CAM4 online and on Twitter.