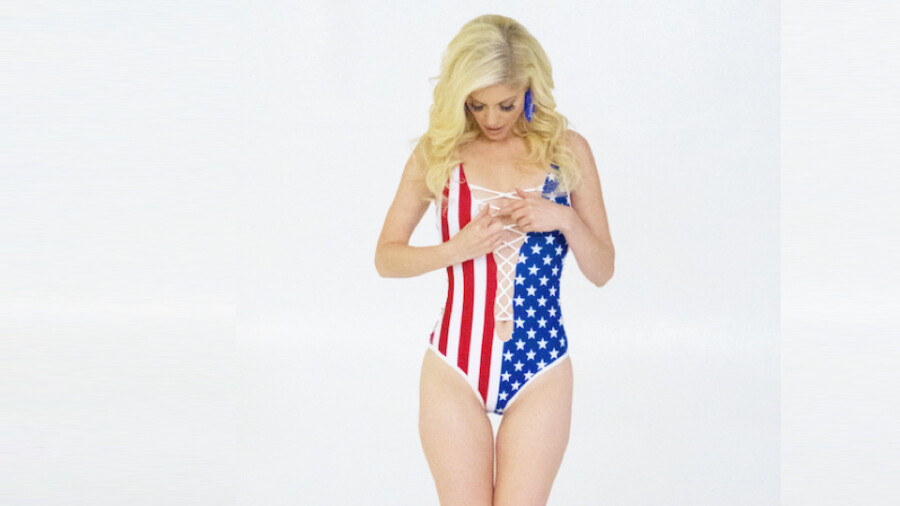 Charlotte Stokely Pens Essay on 'Porn Sex' for Newsweek
LOS ANGELES — Twice crowned XBIZ Girl/Girl Performer of the Year Charlotte Stokely recently penned an original essay for Newsweek with the title "I'm a Porn Star — Porn Sex is Not Real Sex."
The essay, published Saturday, delves into Stokely's background, her acclaimed career, her long-term prominence in a difficult industry and her current balancing of work and personal life.
"When I was 18," the Utah native wrote, "I was working at a strip club and I was asked by a guy who I knew through a friend of mine if I wanted to shoot a porn scene. He told me I could come over on my lunch break to shoot the scene, and I'd be paid cash. I just thought: 'Sure, let's do it.' I went on my lunch break, it was fun and I was paid $1,000 cash. Back in the day, that covered my entire month's rent. I didn't think about it again until a week later when it came out on one of the biggest adult porn websites at the time. I didn't watch porn so I had no idea."
It was then that Stokely decided, "very quickly," that she "wanted to build a career in the adult industry."
"I've always been open and comfortable with my sexuality, so I was never embarrassed to be naked and everyone I worked with said I was naturally good," she wrote. "I could act, I was aware of where the camera was and I had a good attitude."
"Now, it's 17 years later and I've made thousands of porn movies," she added.
Stokely noted that she doesn't like to "glamorize" the money she earns.
"I spend a lot of money to make a lot," she said. "The platforms I share content on take a percentage, I pay a lot of tax and I pay for my hair, nails, wardrobe and travel. So I don't want to give younger women an unrealistic idea that they're going to suddenly make hundreds of thousands of dollars a year."
Stokely also wants civilians to know that "there is a difference between porn sex and real-life sex."
"When I'm having sex on camera, I'm performing," she wrote. " If something feels good, it probably doesn't look good on camera. It's all about keeping your hips very wide open, staying open to the camera and performing. There are real orgasms on set and I've had many, but it's 100% an acrobatic performance for the camera."
She also wrote about the adult performers' responsibility to "create porn that is on the boundaries of healthy intimacy."
To read the complete essay, visit Newsweek.com; visit Charlotte Stokely on Twitter.
Main image: Stokely. (Photo credit: Gustavo Turner)