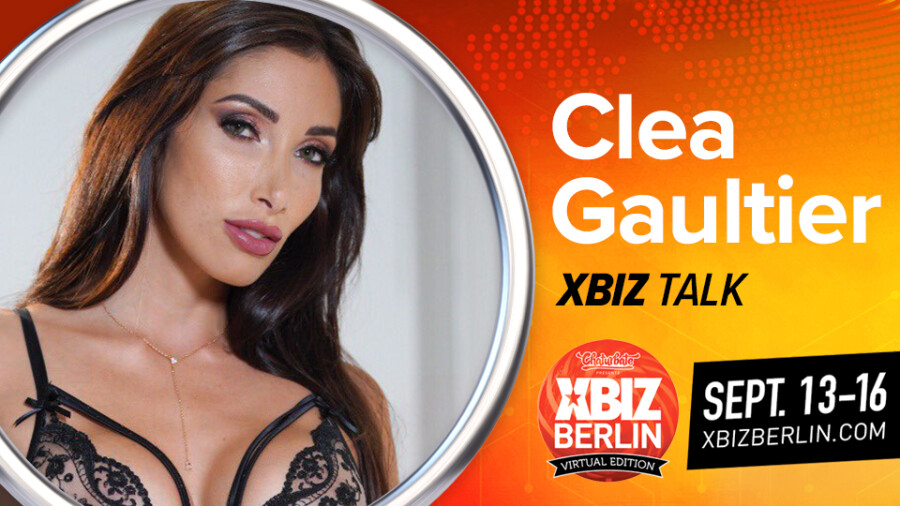 Clea Gaultier to Give Intimate Talk at XBIZ Berlin 2021
BERLIN — European superstar Clea Gaultier will be one of the featured speakers at the virtual edition of the 2021 XBIZ Berlin conference, sharing details of her life and career in an up-close-and-personal solo presentation on Wednesday September 15 at 8 p.m. (CET).
The 2019 XBIZ Europas "Female Performer of the Year" will bring her characteristic glamour to a talk that promises to be one of the most intimate looks at one of the most in-demand performers in the European adult market.
"I will be talking for 30 minutes about my career," Gaultier told XBIZ from her summer vacation in her native France. "I'll be revealing personal stories about my childhood, my studies, what kind of work I did before porn, how I got into porn — and even perhaps some of the secrets behind the success of my career."
Gaultier followed an unusual path into the adult industry, coming from a private school background full of ballet and language lessons.
"Before I entered the industry," Gaultier revealed, "I was at school at the university. I studied philosophy and psychology, and at the same time I was working at a bakery because I needed to pay for my flat. Then I moved to Belgium and did modeling for two years — catwalk, fashion; I introduced a lingerie brand."
But when she returned to Lyon, France, Gaultier could not find another job. With her modeling experience, and her 14 years of professional-level ballet, "I knew I wanted to do something artistic," she explained.
"So I started doing porn with my ex in 2016," Gaultier laughed, "and I sent pictures to Marc Dorcel — within a week, they got me a train to Paris, I met their main director and started doing movies for them."
The rest, as they say, is Euro-porn history.
"People should watch my 2021 XBIZ Berlin talk because I've got an extremely interesting past," she invited. "I used to do ballet, I've been to private school, I speak three languages fluently — and here I am!"
"It's gonna be fun, to know more about me," Gaultier concluded.