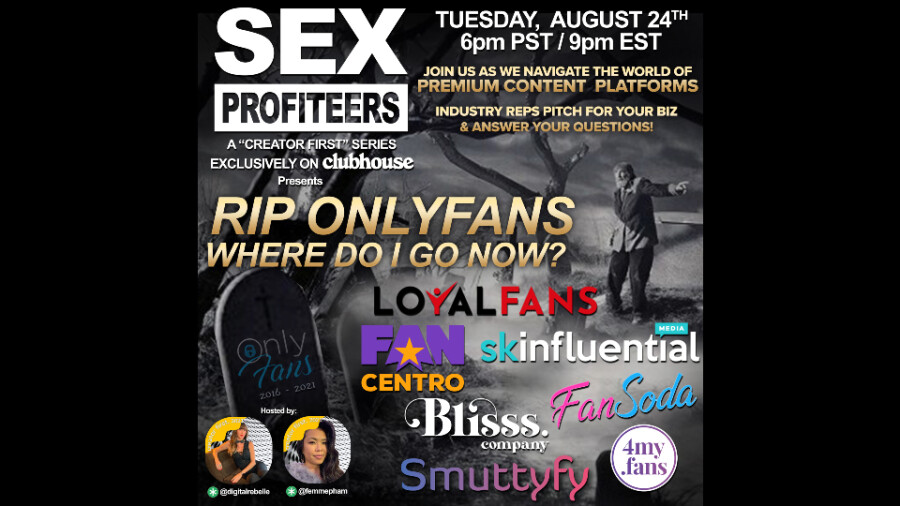 Clubhouse Chat Series to Discuss Fan Site Alternatives Tonight
LOS ANGELES — Tonight's installment of the Clubhouse chat series "Sex Profiteers," hosted by Magalie Rheault, COO of Evil Angel, and Cyndi Pham, CEO of Dirty Hen, will feature a panel of reps from premium content platforms in the wake of the decision by OnlyFans to ban sexually explicit content beginning Oct. 1. 
The discussion gets underway at 6 p.m. (PDT) with reps from Blisss.company, FanCentro, FanSoda, 4My.fans, Loyalfans, Skinfluential Media and SmuttyFy.
"We're aiming to provide an unbiased space for OnlyFans alternative platforms to speak directly to creators about their products and answer questions," said Pham. "I feel that giving creators more information can only help empower them to make the best choices for themselves."
Audience members will have the opportunity to participate during Q&A segments.
"I have been preaching since 2018 that content creators need to own their own destiny. I am looking forward to the opportunity to talk on this panel to lend my knowledge and expertise along with many other well-respected industry members," Skinfluential's Director of Business Development Austin Fiascone said.
Rheault noted Clubhouse has hosted "many rooms where creators talk about the OnlyFans ban and how it's affecting them, but no one has had a conversation about real alternatives from the people who actually built these platforms themselves."
"It's a great opportunity for business owners and content creators alike to come together and discuss openly," she added.
Find "Sex Profiteers" online and on Twitter and Instagram for the latest updates.
The program is among the recipients of the inaugural Clubhouse "Creator First" accelerator program; direct inquiries to pr@agencybardo.com.