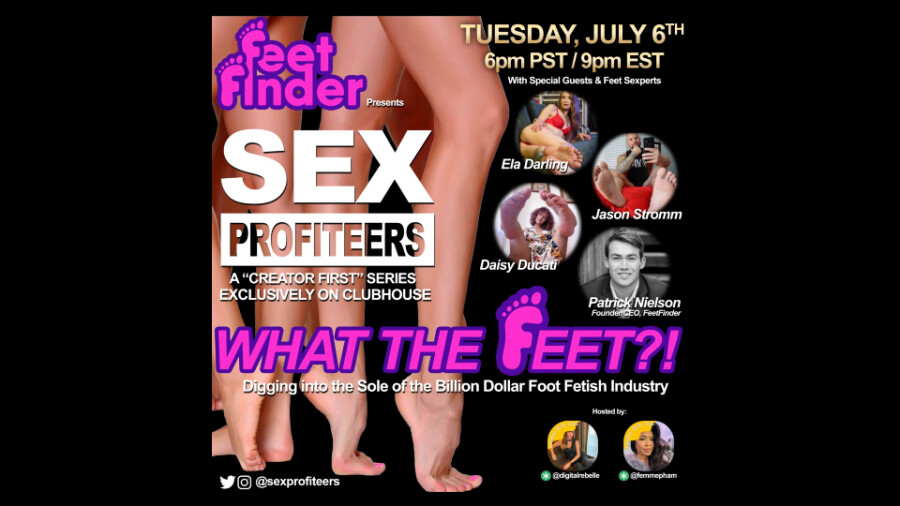 Clubhouse Chat Series to Explore Foot Fetish
LOS ANGELES — Clubhouse chat series "Sex Profiteers," hosted by Magalie Rheault, COO of Evil Angel, and Cyndi Pham, CEO of Dirty Hen, will host FeetFinder CEO and Founder Patrick Nielson on Tuesday, July 6, at 6 p.m. (PDT).
Nielson said the company was "ecstatic" to lend sponsorship support to the episode, titled "What the Feet?!"
"It's a great opportunity to help grow the foot fetish industry and network with top models and fans along with giving people an inside look at what happens behind the scenes and a put face to our brand," he added.
The discussion will focus on "the monetization of foot fetishism, the psychology behind it and personal anecdotes in the hopes of creating an open dialogue around all things feet," described a rep. Additional guests will include Daisy Ducati, Patrick Stromm and Ela Darling.
"The thing I find both astonishing and endearing is how frequently people with a foot fetish feel unusual and strange in their desires, when foot fixation is probably the most common fetish I encounter," Darling noted.
Stromm, a self-described "straight muscle-god," welcomes the attention of his clients to his feet.
"The reason they support me financially is because I understand the fetish," he said. "I also have a foot fetish myself."
Pham observed, from "a branding and marketing perspective," the FeetFinder sponsorship is "a perfect fit. We are so excited to have the support of FeetFinder and we can't wait to have Patrick on the show to talk about the platform he's created and the brilliance behind FeetFinder's viral marketing campaigns."
One of the goals of "Sex Profiteers," said Rheault, is to "normalize the discussion around taboo topics."
"The foot fetish industry is an extremely lucrative business but receives so little air time. We'll be encouraging audience members to join us to talk about their foot fetish fantasies as well," she added.
Follow FeetFinder online and on Twitter.
Find "Sex Profiteers" online and on Twitter and Instagram for the latest updates.
In related news, the program is among the winners of the inaugural Clubhouse "Creator First" accelerator program; direct inquiries to pr@agencybardo.com.