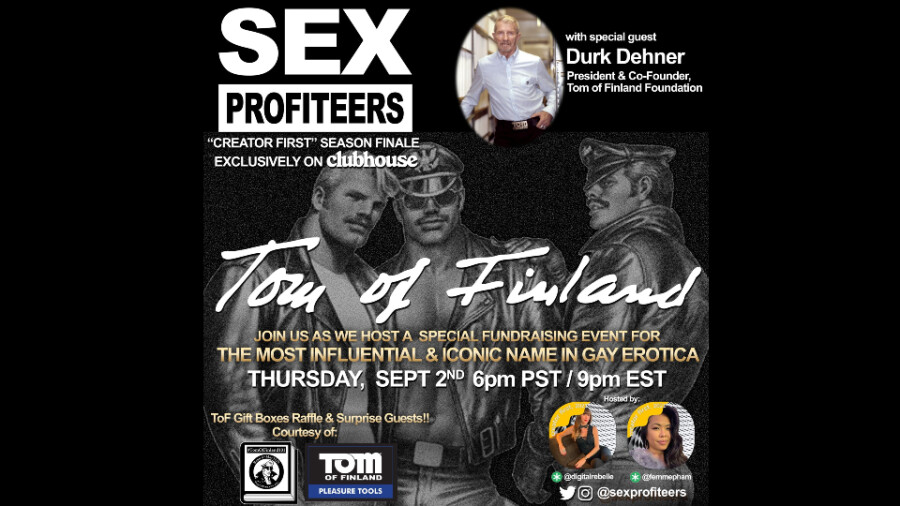 Clubhouse Chat Series to Host Fundraiser for Tom of Finland Foundation
LOS ANGELES — This week's installment of the Clubhouse chat series "Sex Profiteers," hosted by Magalie Rheault, COO of Evil Angel, and Cyndi Pham, CEO of Dirty Hen, will close out its inaugural season and serve as a fundraiser for the Tom of Finland Foundation (ToFF) on Thursday at 6 p.m. (PDT).
Joining the hosts will be "legendary gay icon, original leather daddy and president and co-founder of ToFF, Durk Dehner, who will take the stage to discuss the history behind arguably the most influential name in gay erotica," enthused a rep.
TOFF is a nonprofit organization whose mission is to "protect, preserve and promote the erotic arts. The iconic images of muscular men clad in leather that Tom of Finland drew became the quintessential imagery of leather culture," the rep continued. "The fundraiser will include special surprise guests and a raffle of custom gift boxes courtesy of Tom of Finland Pleasure Tools as well as vintage memorabilia straight from the TOFF archives.
Upon noting the crucial work of the foundation, Dehner said, "Where one finds openness of sexuality and its cultural arts is a place where you will find a more tolerant society."
Pham noted that TOFF has spent nearly four decades "conserving the work of one of the most recognizable brands in adult entertainment — gay or straight."
"Fundraising is an integral part of maintaining the legacy of Tom of Finland. We had the privilege of raiding the TOFF archives and they were so generous to give us amazing collectibles to include in the gift boxes. This includes rare erotic books and signed Durk Dehner prints," she said.
"Our inaugural season has been so rewarding and we thought that closing out 'Sex Profiteers' by raising money for such an important cause in our industry would be the perfect way to end it," she added.
Follow TOFF on Twitter and find additional linkage here.
Find "Sex Profiteers" online and on Twitter and Instagram for the latest updates.
The program is among the recipients of the inaugural Clubhouse "Creator First" accelerator program; direct inquiries to pr@agencybardo.com.