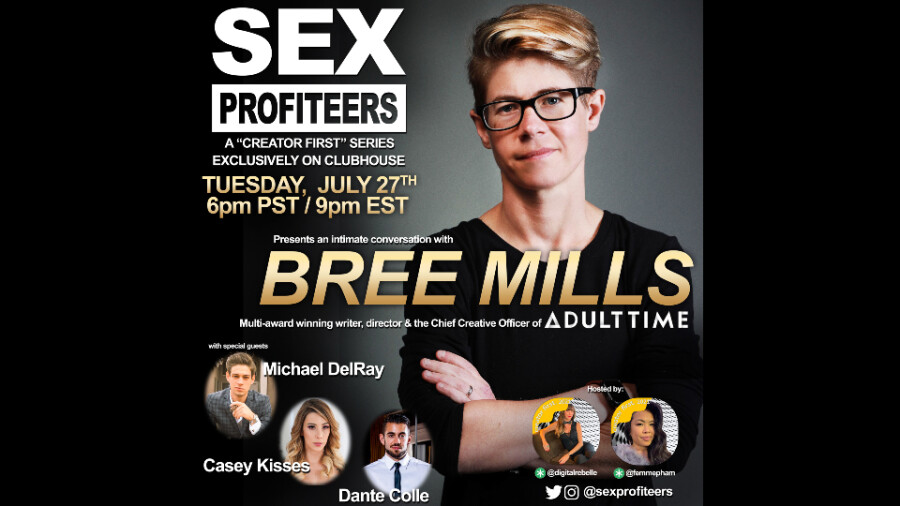 Clubhouse Chat Series to Welcome Bree Mills
LOS ANGELES — The upcoming installment of the Clubhouse chat series "Sex Profiteers," hosted by Magalie Rheault, COO of Evil Angel, and Cyndi Pham, CEO of Dirty Hen, will feature Adult Time CCO and XBIZ award-winning filmmaker Bree Mills Tuesday, July 27, at 6 p.m. (PDT).
Mills will be joined by Michael Delray, reigning XBIZ "Performer of the Year" Dante Colle and XBIZ "Trans Performer of the Year" Casey Kisses.
"I'm looking forward to sharing my perspective on working in adult as a queer female director and showrunner. It will be my Clubhouse debut," said Mills.
Colle also looks forward to the chat. "After working with Bree on various types of projects this past year — most of them unreleased — I'm super-excited for everyone to get the chance to tune in while we all talk about it live for the first time," he said.
Listeners will have the opportunity to pose questions to the guests during the broadcast.
"Very rarely have I encountered people as creative as Bree. From the way she writes, to the way she shares her passion on stage and involves the whole crew, it's been a great change in our industry. I know she will bring the same enthusiasm when discussing her life and career," said Rheault.
Follow Mills, Colle, Kisses and Delray on Twitter.
Find "Sex Profiteers" online and on Twitter and Instagram for the latest updates.
In related news, the program is among the winners of the inaugural Clubhouse "Creator First" accelerator program; direct inquiries to pr@agencybardo.com.