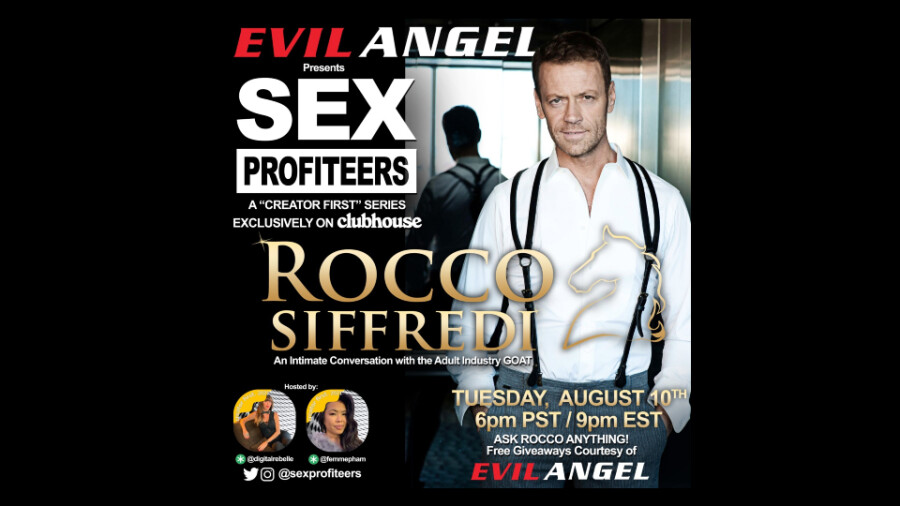 Clubhouse Chat Series to Welcome Rocco Siffredi
LOS ANGELES — The next installment of the Clubhouse chat series "Sex Profiteers," hosted by Magalie Rheault, COO of Evil Angel, and Cyndi Pham, CEO of Dirty Hen, welcomes performer, director and producer Rocco Siffredi Tuesday at 6 p.m. (PDT).
Evil Angel has signed on as presenting sponsor for the episode.
"Rocco Siffredi has been an important member of the Evil Angel family for three decades, since he and company founder John Stagliano began collaborating on projects that changed XXX entertainment. We've watched Rocco's growth as a performer and a filmmaker and we're proud of what he's become: an adult business legend that has successfully crossed over to mainstream stardom," President of Evil Angel Alexandra Kelley said.
"He's highly charismatic — when Rocco walks into a room, all eyes follow him. His legion of fans know that he brings genuine ambition and the highest standard of quality to everything he does," Kelley added. "If they could meet him, they would know that Rocco's biggest attribute is his heart."
A rep noted Siffredi will "discuss his illustrious career as being one of the most recognizable male performers of all time, his many crossover movie projects which have included multiple titles on Netflix, major endorsement deals with brands such as Durex, Amica Chips and Sixt Rent-a-Car and his life outside of the adult industry."
Audience members will have the opportunity to pose questions during the show and participate in giveways of Evil Angel swag; in addition, free seven-day memberships are being offered to EvilAngel.com and RoccoSiffredi.com.
"I have a wild life that has included a lot of sex and amazing stories. I'm excited to share my experiences and adventures with listeners," Siffredi said.
Find "Sex Profiteers" online and on Twitter and Instagram for the latest updates.
Earlier this year, the program was among the recipients of the inaugural Clubhouse "Creator First" accelerator program; direct inquiries to pr@agencybardo.com.