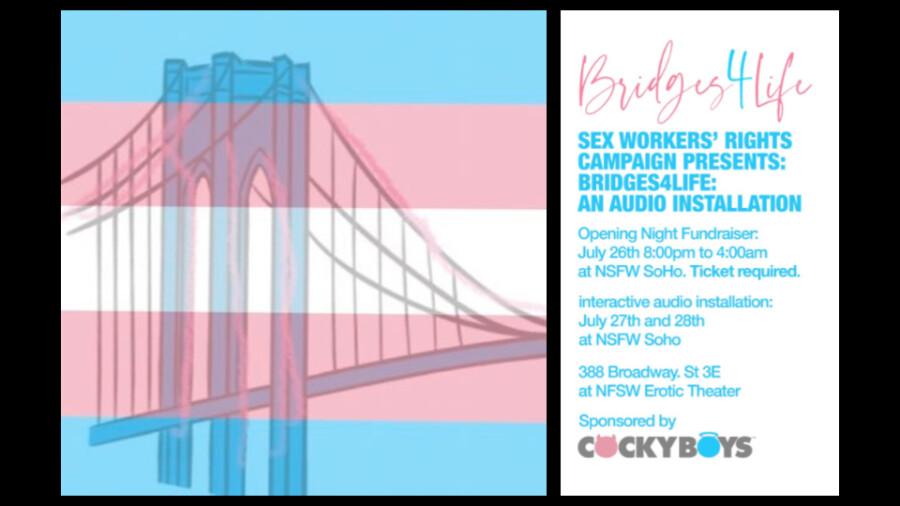 CockyBoys Sponsors Bridges4Life Fundraiser Tonight
NEW YORK — CockyBoys is a sponsor of the Bridges4Life sex workers' rights campaign "Sex Work is Work," as well as a fundraiser tonight that celebrates the launch of "Bridges4Life: An Audio Installation" featuring voices from New York's trans and gender nonconforming sex worker community.
"This exhibit blends voices, thoughts and experiences into a moving portrait of survival, solidarity and hope," noted a rep. "Tonight's event will celebrate, support and uplift trans sex workers, and the much-needed and necessary work of Bridges4Life. The evening will include performances, food and an open bar for premium ticket holders."
When director and CockyBoys co-founder Jake Jaxson learned about Bridges4Life, and its founder Tahtianna, he felt compelled to use the studio's platform to "raise awareness and amplify their voices."
"It's a travesty what is happening to trans sex workers today and I want to use our voices to help bring attention to their struggle, now more than ever," he added.
A Bridges4Life rep noted that "Black trans women are killed at disproportionate rates because of the intersections of racism, transphobia, sexism, biphobia and homophobia."
Further, said the rep, "a cornerstone of the #BlackLivesMatter movement and the recent racial justice protests is #BlackTransLivesMatter, an explicit recognition that even within a community of individuals who are in danger, the lives of Black trans people — especially women — are even more threatened."
Tonight's fundraiser also serves as a birthday party for Tahtianna and is scheduled for 8 p.m. to 4 a.m. (EDT) at NDFW SoHo, described as "a social sex club for the adventurous." Click here for ticketing details.
"Bridges4Life: An Audio Installation" will be open to the public Tuesday and Wednesday from 11 a.m. to 6 p.m. (EDT) at NSFW SoHo. Learn more about the project, and the group itself, at Bridges4Life.org.
Follow CockyBoys on Twitter for the latest updates.