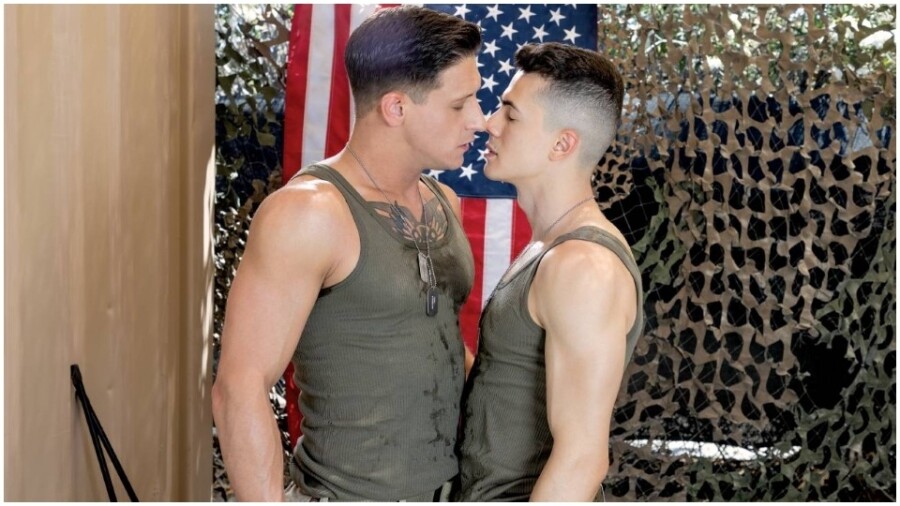 Dalton Riley, Eric Rey Obey 'Sgt. Dick' for Hot House
SAN FRANCISCO — Hot House Video continues to promote the release of military-themed all-sex title "Sgt. Dick" with the online debut of sexplay starring Eric Rey and Dalton Riley under the direction of Trenton Ducati.
The action opens as the privates take a break from their work under the grueling desert sun and pair off back at camp.
"After the two recruits lock lips, Eric makes his way to his knees where Dalton is unzipping his fatigues to present Eric with his thick, cut cock. After taking a quick glance to make sure no commanding offers are around, Eric wraps his lips around Dalton's pole and sucks it all the way down to the base," teased a rep.
"Now that Eric has made Dalton's dick rock-solid with his throat, he bends over to offer up his smooth hole for Dalton to lick up. When Eric's hole is slick with spit, Dalton stands and drills his cock deep into Eric's ass. The private takes a girthy pounding, doggy-style, before rolling over on his back and getting the load fucked out of him by Dalton."
The cast of "Sgt. Dick" includes reigning XBIZ "Gay Performer of the Year" Max Konnor with studio exclusive Tristan Hunter, Ray King, Max Lorde, Isaac Parker and Jay Tee.
"Dalton takes command in the barracks when he asserts his dominance over fellow soldier Eric," Ducati said. "These studs have amazing chemistry, so once the uniforms slip off, the high-energy fucking starts, and it builds to an amazing conclusion."
Visit HotHouse.com and the Falcon online store for additional details and follow the brand on Twitter.
The site's content is available for promotion via BuddyProfits; email affiliates@buddyprofits.com for more information.