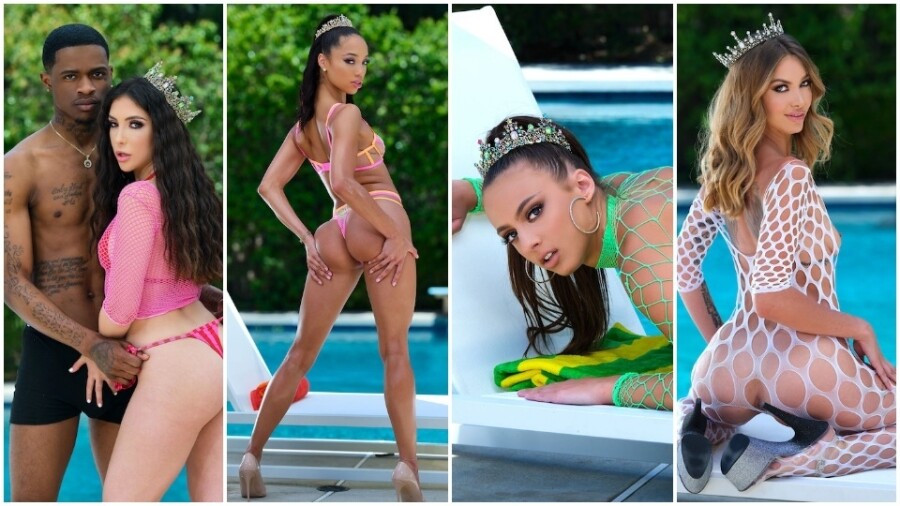 Damion Dayski Debuts With 'Anal Size Queens' for Evil Angel
LOS ANGELES — "Young, unbelievably hung" newcomer Damion Dayski enjoys his first showcase in "Anal Size Queens" for Jonni Darkko and Evil Angel opposite Gia Derza, with whom he shares the cover spotlight, and Alexis Tae, Jane Wilde and Leah Winters.
The 18-year-old Dayski inked a six-month non-exclusive deal as the first male contract performer for Darkko Productions earlier this summer.
"In 'Anal Size Queens,' I wanted to put together a cast of amazing talents that could handle 12 inches of Damion's cock," Darkko said. "I picked out the girls I knew would enjoy every inch in their ass. I think it was achieved. Damion is a new contract talent from Chicago that I connected with from Riley at Hussie Models. He is a great, new talent."
The director took his camera outdoors for "luxurious tease, twerking and lewdness. Each princess starts her scene in regal lingerie and a tiara. The summer fun heats up as the girls get to know their leading man."
Dayski revealed Wilde was his first-ever anal experience.
"I really enjoyed that day," he said. "She was such a sweet girl. Great performer."
Wilde echoed his enthusiasm.
"My scene was amazing," she enthused. "So much fun to reunite with my favorite director and be able to break in the brand-new contract star, Damion. It's explosive and super-hot."
Derza described working with the newcomer as "such a pleasure."
"Taking all of his cock in my ass was so much fun; he made me cum over and over again," she noted. "I love being an 'Anal Size Queen.'"
Darkko described the title "perfect summertime fun."
"Hope the fans dig it," he added. "If they like it, we'll do a 'Part 2.'"
"Anal Size Queens" is now available in all formats, including EvilAngel.com; follow the studio and Damion Dayski on Twitter.
For domestic sales, contact Rick Porras at rick@evilangel.com; for international sales and licensing, email Alexandra Kelley at alex@evilangel.com.