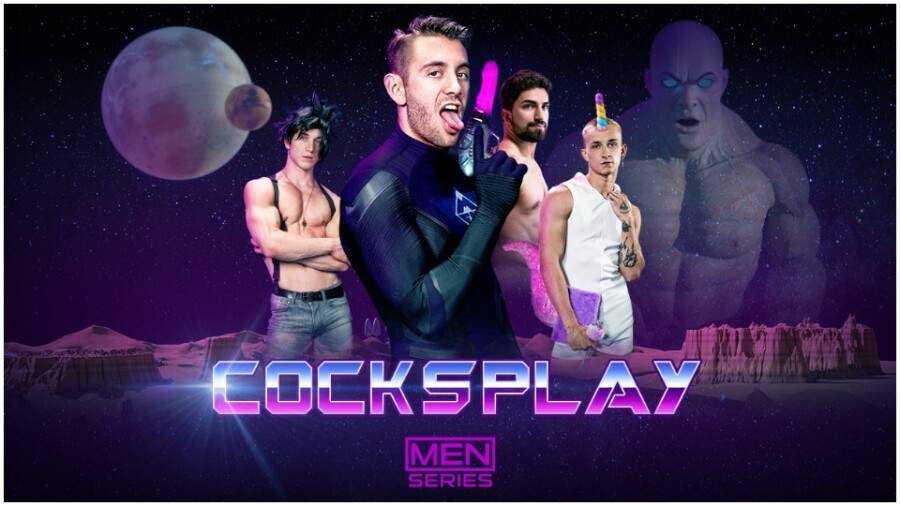 Dante Colle, Felix Fox Join Nick LA in 'Cocksplay' for Men.com
LOS ANGELES — Reigning XBIZ "Performer of the Year" Dante Colle and newly signed exclusive Felix Fox head up the cast of new limited series "Cocksplay" from Men.com.
Studio exclusive Theo Brady and newcomer Nick LA fill out the cast, which includes a special appearance by Luke Truong.
"Working on 'Cocksplay' was an enjoyable experience," Production Director Ryan Cash said. "This was the first scene we filmed with Felix, and we were not let down by his acting chops. Paired with veteran Dante, this was a dynamic duo who embraced the fantastical elements of the script. As a self-proclaimed nerd, Felix was excited to cosplay as a superhero who ends up in a fantasy world where he and Dante defeat a cum-drenching villain. The day was filled with humor, passion and lots of bloopers."
Cash described Nick LA as "a treat to film."
"He really played up the superhero character and his dry sense of humor brought out the role of the 'ditzy celebrity.' At heart, Nick is quiet and reserved — but when he placed the superhero costume on his body, his alter-ego shined through and we were all in awe of his physique, his laugh and his mesmerizing green eyes," Cash said.
The newcomer plays a "nerd icon" who is late to his own gaming conference, noted a rep about "Cocksplay: Part One."
"When he invites a cosplaying fan (Theo Brady) to suck his cock under the table, it's the final straw for his long-suffering agent, who quits on the spot. With no one to answer to, Nick brings Theo back to the greenroom, where he sticks a unicorn horn dildo to the door of the fridge and fucks the eager twink's hole with it," continued the rep. "Nick lies down with the dildo on his forehead and Theo rides it, then does the same to the top's real cock. Nick bends his fan over a chair to fuck him doggy-style, and Theo rides the famous top till he cums, then proves his 'No. 1 fan' status as Nick fills him with a creampie."
Part Two of "Cocksplay: Part Two" opens as there are still some kinks to be ironed out of the new "Anal Cumbat" arcade game when two convention-goers (Colle, Fox) get sucked inside the virtual world.
"The gamers are shocked to find themselves dressed as the characters — and equipped with huge cocks," the rep teased. "After defeating an enemy with their 'jizz weapon,' the game world looks like it's 'cumming' to an end, so Felix asks Dante to take him doggy-style. The guys start fucking and get transported back to the real world. They find an empty room at the con to continue their tryst, as Dante bends Felix over the table… The security guard comes in to watch and decides to take a facial from both of them."
"Cocksplay: Part One" debuts Friday on Men.com. Follow the studio on Twitter.