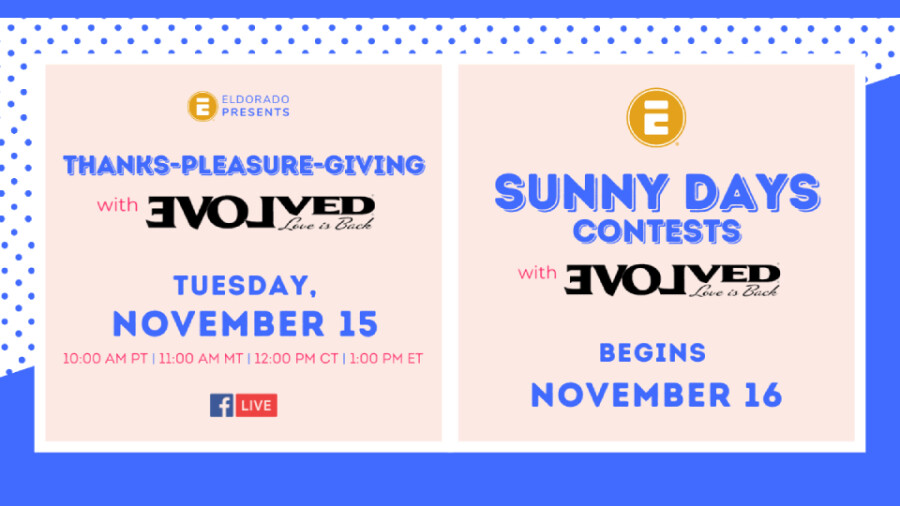 Eldorado Partners With Evolved Novelties for Next Facebook Live Event
BROOMFIELD, Colo. — Eldorado and Evolved Novelties are partnering for the upcoming "Thanks-Pleasure-Giving" episode of the "Eldorado Presents" Facebook Live series on Tuesday, Nov. 15 at 10 a.m. (PST).
Evolved Novelties "Sales, Education and Sex Toy Unicorn" Lucy Vonne D'Olimipio will lead a one-hour product training that is suitable for both adult retailers and retail customers.
Event participants are encouraged to engage throughout the live stream for the opportunity to win prizes.
D'Olimipio said she is looking forward to connecting with Eldorado's customers and is "excited to be joining forces with Eldorado for a Facebook Live, so we can show all the new and excited things we have coming."
During the event, D'Olimipio will announce a two-part — retail store-only and public — social media contest. The "Sunny Days" contests begin Wednesday, Nov. 16, on the Eldorado Facebook page. Public contest participants are encouraged to reply to the Eldorado Facebook post for a chance to win one of five Sunshine Flexible Wands. Contest winners will be announced Friday, Nov. 18 by noon.
The contest for retailers will also begin Nov. 16 and run through Nov. 29. Three stores will win one of three prizes based on how much they order throughout the two-week contest period. Winners will be announced Dec. 2.
For more information, contact an Eldorado account manager, call 800-525-0848 or visit Eldorado.