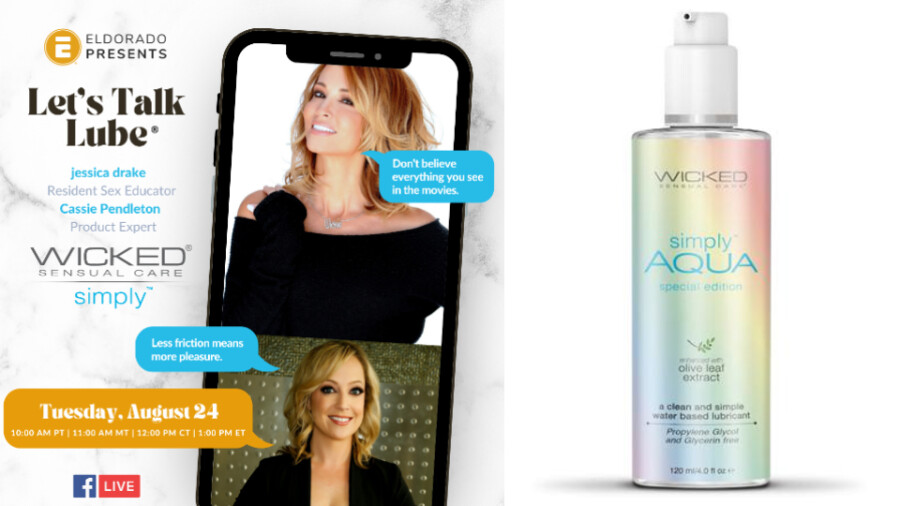 Eldorado to Present 'Let's Talk Lube' Facebook Live Event
BROOMFIELD, Colo. — Eldorado Trading Company has scheduled the latest episode in their sexual health and wellness education series on Facebook Live, titled "Eldorado Presents: Let's Talk Lube," for Tuesday, August 24 at 10 a.m. (PDT), in partnership with Wicked Sensual Care (WSC).
A rep noted the one-hour product training, which is open to the public and suitable for both adult retailers and retail customers, will be hosted by WSC Brand Strategist Jessica Drake and WSC Product Expert Cassie Pendleton.
The event will focus on "simply Aqua Special Edition" which was created with "a dreamy rainbow bottle and will provide ongoing financial support to LGBTQIA+ organizations committed to raising awareness and offering aid to those in need," the rep explained. "Accordingly, a percentage of the proceeds will be dedicated to supporting various LGBTQIA+ organizations and communities in perpetuity."
During the Facebook Live event, Pendleton will announce the "Lovers and Dreamers" Contests, a two-part — retail store and public — social media game event centered on "simply Aqua Special Edition." The public Contest will run August 25-26; contestants should reply to the public contest post for their chance to win one of 12 bottles of "simply Aqua Special Edition."
The retailer contest will begin August 25 and run through September 10. "Retail stores who purchase $250 of WSC products through Eldorado — these orders must include a pre-order of the new 'simply Aqua Special Edition' rainbow bottle — will qualify for a chance to win one of three grand prizes: $450 retail value of WSC products. Retail store winners will be announced Monday, September 13 on the Eldorado Facebook page."
Visit Eldorado's Facebook Live page to watch Tuesday's event.
For more information, call (800) 525-0848 and visit Elorado.net and the WSC digital catalog; follow both Wicked Sensual Care and Eldorado on Twitter.