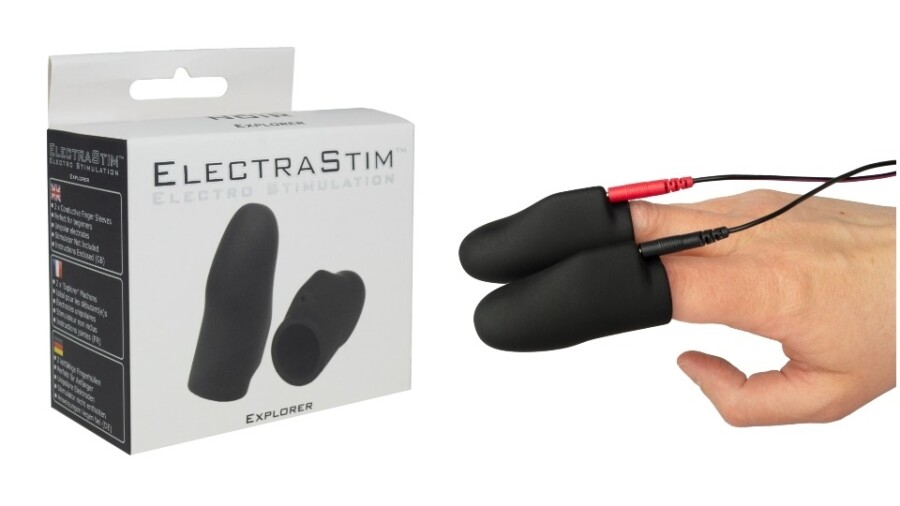 ElectraStim Adds 'Explorer Finger Sleeves' to 'Silicone Noir' Range
LOS ANGELES — ElectraStim has announced an expansion of its Silicone Noir accessories range with Explorer Finger Sleeves, described as silicone finger caps or sleeves that sit on two fingers and "give the wearer the power of electro at their fingertips."
ElectraStim Marketing Manager Claire praised the simple concept.
"Sometimes you have moments when developing products where you look at a prototype and think, 'Why haven't we done this before?'" she said.
"There have been products like this on the market, but they are generally in the form of gloves and may even require latex gloves to be worn underneath to prevent the hands from being stimulated," she added. "Fabric and wire-woven gloves are not practical when using conductive gel to optimize sensations and they'll need to be cleaned in the same way as other household fabrics, which isn't exactly convenient. Explorer Finger Sleeves can be quickly washed in warm soapy water or with sex toy cleaner and allowed to air dry."
Electro-sex is still a niche area of the adult industry, she noted.
"There are unfortunately still a lot of misconceptions. E-stim isn't all about electrifying a giant dildo or 'torture' play, it's also about slow, sensual play and discovering how the body responds to a totally unique type of stimulation," Claire said.
Designed to be worn over two fingers, the Explorer Finger Sleeve allows the user to feel the electro-sensations at the touch of their fingertips.
"Ideally suited to clitoral stimulation or other surface play, Explorer provides a smooth and controllable level of sensation that encourages exploration of the different erogenous zones," Claire explained. "Hot on the heels of the announcement of the Kix Stimulator and its seamless intensity spectrum, Explorer is a perfect accompaniment that will let users properly experience the delicacies and versatile sensations that electro can produce."
"Explorer is incredibly effective for use on more sensitive areas of the anatomy. Whereas clitoral play, for example, was a bit intense with earlier toys in our range like Halo, Explorer has solved that issue by having a wider area of contact and a more friendly material," Claire added.
She noted the product is "also ideal for introducing male users to electro-stroking."
"With some electro-conductive gel and the Explorer Sleeves you can enhance masturbation by introducing electro-stimulation to the penis directly," she said. "There's really no limit as to how you can choose to explore how electro sensations can enhance your pleasure. Explorer provides the ultimate solution to versatile all-gender exploration, literally at your fingertips."
The product can be worn as a pair or as a single unipolar accessory when combined with any other unipolar electrode like a conductive pad or cock ring.
"Compatible with any ElectraStim stimulator, the inside of Explorer is insulated so that the wearer won't receive any stimulation through their fingers during play," Claire said. "Explorer Sleeves perfectly compliment the newly launched Kix Electro Stimulator for electro beginners — not only with their function, but also providing an accessory that is an economical option for customers exploring electro for the first time."
A small amount of conductive gel or water-based lubricant on the outside of the sleeves will enhance the smoothness of the sensation and is "essential for effective use."
The Silicone Noir Explorer Finger Sleeves box includes two finger sleeves, a microfiber storage bag and instructions. For additional product details, find ElectraStim online or contact info@electrastim.com.