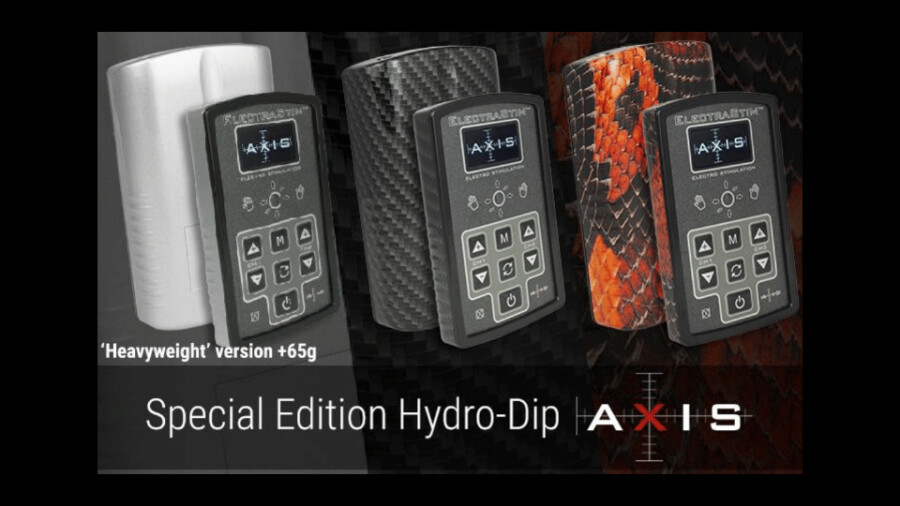 ElectraStim Introduces 3 New 'Axis' Collector's Case Designs
LOS ANGELES — ElectraStim has introduced a series of three Collector's Edition designs for its Axis stimulators.
"As their 20th anniversary of business reaches the halfway mark, ElectraStim is proud to offer something a little different this time: the same fantastic Axis stimulator you know and love, but with three different patterns to give the units a bit of a visual boost for the anniversary," explained a rep.
The designs are Brushed Steel, Carbon Fibre and Red Boa.
Marketing Manager Claire noted each ABS plastic case is hand-dipped using a special water-transfer design process that "leaves a lush, shiny finish and a unique pattern on every unit, especially Red Boa snakeskin where no two units will look the same. ElectraStim's 20th anniversary feels like the perfect time for us to experiment a little more and put some of our wackier ideas out there to the consumer… We've had a lot of fun trying out different patterns."
All three designs were chosen with the help of some of ElectraStim's longest-standing customers; additionally, the Brushed Steel design has been modified internally to be heavier than a standard Axis to give it "some pleasing heft during use and a weightiness that will feel at home in the extensive collections of experienced electro-enthusiasts."
The latter change was suggested by "a trusted stockist," noted the rep. "Stock for all three Collector's Edition case designs is limited and they won't be restocked."
MSRP is $349. For additional product details, find ElectraStim online or contact info@electrastim.com.
Follow the company on Twitter and XBIZ.tv.