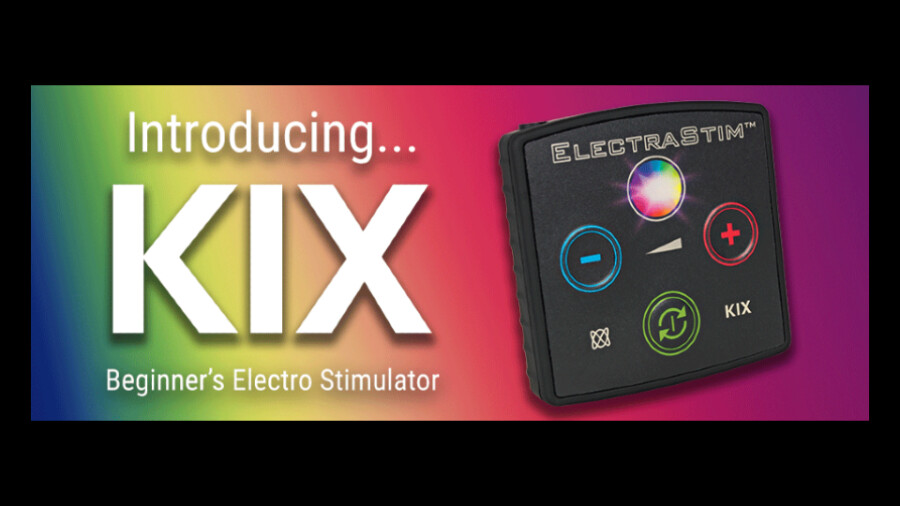 ElectraStim Rolls Out 'Kix' Stimulator Unit for Beginners
LOS ANGELES — ElectraStim is now accepting pre-orders for Kix, a stimulator designed for newcomers to e-stim play with a consumer-friendly price point.
"Utilizing 20 years of experience creating some of the most popular electro products on the market, ElectraStim has gone back to the very beginning of the electro-journey with Kix," a rep explained. "Designed especially for beginners, Kix is an introductory stimulator with enough power and modes to show off the variety of electro-stimulation while keeping the operation simple for the user."
"ElectraStim has always championed the message that electro isn't necessarily for everyone, but everyone with even a little curiosity should try it at least once," continued the rep. "However, there are some undeniable barriers to entry that a lot of beginners will experience. With many electro products on the market advertising themselves as a 'shock' product or for delivering an electrical 'jolt' it's no wonder that many people are put off by the language used around the category. Couple that with a mediocre or bad experience and the user may never want to experiment further."
"ElectraStim aims to reframe the perception of electro-sex and highlight the incredible versatility of this type of stimulation," the rep said. "Alongside confusing terminology, until this point quality electro sex gear has also been prohibitively expensive for a lot of beginners — who don't yet know if they enjoy the sensations."
The Kix unit "does away with numerical intensity levels which will often mean nothing to a newcomer."
Instead, intensity is displayed using a color-changing central LED that phases through an intensity spectrum "with silky smoothness for a more controlled and subtle experience. Cooler colors visually represent lower intensities while warmer colors highlight the more intense levels," the rep said. By phasing through a color spectrum instead of numbered levels "ElectraStim aims for Kix users to focus more on what they're feeling rather than which level they've 'managed to get to.' To further enhance the simplicity, Kix uses touchpad controls for seamless phasing through the intensity spectrum."
In addition, a brand-new "Sweep 'n Keep" mode is exclusive to Kix that allows users to control the frequency of stimulation as well as the intensity for a wide range of different sensation combinations.
"In simple terms, the frequency of the current changes the 'smoothness' of the stimulation; higher frequencies feel smoother and more tickly while lower frequencies are more rumbly and similar to vibrations," explained the rep. "By playing around with intensity and frequency users will be able to experience just how unique electro-sex can be. One of the most interesting characteristics of electro is how different it can feel for each person or even every time you try it."
The ElectraStim rep noted development of Kix was "heavily influenced by years of customer and retailer feedback. Kix opens the door to a whole new audience of users and future electro enthusiasts focused on experimentation and fueling their curiosity."
The Kix is USB-rechargeable with approximately three hours of continuous play; multi-language instructions are available. The unit includes a free extendable warranty of up to three years.
A rep noted that "larger items such as metal dildos or anal toys require ElectraStim's high-end stimulators — the SensaVox, Flux or Axis — to ensure satisfactory stimulation levels."
The MSRP is $95.00/£69.00/€79.00. Direct technical questions and concerns to claire@electrastim.com; contact jack@electrastim.com for wholesale inquiries.