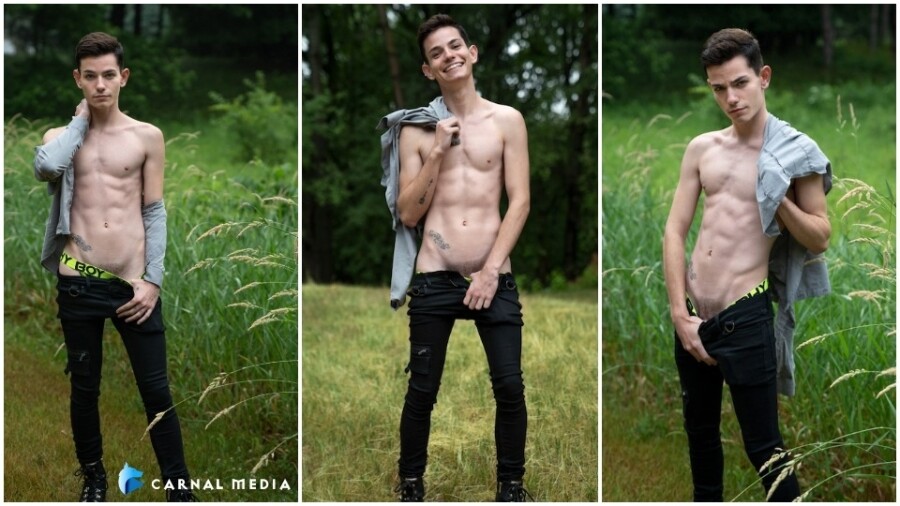 Eli Bennet Inks Exclusive Deal With Carnal Media
LOS ANGELES — Studpup Eli Bennet has inked an exclusive contract with Carnal Media and recently made his company debut with a master/sub fantasy role-play scenario on BoyForSale.com.
"Hot boy summer just got a little hotter," exclaimed a studio rep.
Bennet joins a bulging roster of swordsmen that includes Bishop Angus, Cole Blue, Peter Pounder and Austin L. Young.
Carnal co-founder, CEO and performer Legrand Wolf noted they "snapped up" Bennet at the first opportunity.
"He's stunning and handsome, of course," said Wolf, who noted the performer's desire to "be a part of the BoyForSale world, which he expressed pretty early on after meeting us, and made him a natural for our sites."
"He's a fun-sized boy — where else could he be than the home of FunSizeBoys.com? And, yes, we're already filming his FunSizeBoys releases," Wolf added. "Finally, his personality and work ethic are second-to-none. Over the last few weeks of filming together and getting to know one another, he's been an absolutely fantastic addition to the team."
Bennet praised his experience to date with Carnal Media.
"The way Legrand presents himself and the amount of respect he has for the people who work for him, it's really nice to see people in this industry care about their models," he said. "I fielded a few offers to be an exclusive with other studios, but once I met Legrand and his team, I knew that this could be my new home."
Visit TheGayGoods.com for additional details and newly launched streaming service CarnalPlus.com for the full portfolio of Carnal Media properties; follow the company and Eli Bennet on Twitter.
In related news, Legrand Wolf recently spoke to XBIZ about filming fantasy and taboo role-play content for the July issue of XBIZ World; click here for the digital edition of the magazine.