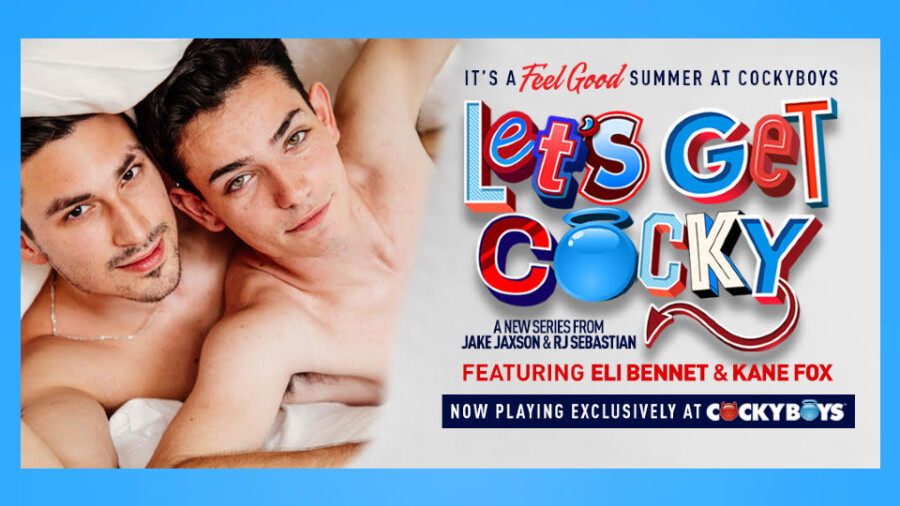 Eli Bennet, Kane Fox Topline 'Let's Get Cocky' for CockyBoys
NEW YORK — Studpups Eli Bennet and newly signed exclusive Kane Fox topline the first episode of limited series "Let's Get Cocky" from CockyBoys and directors Jake Jaxson and RJ Sebastian.
Jaxson and Sebastian are both 2021 XBIZ Awards nominees for "Gay Director of the Year." CockyBoys earned the 2021 XBIZ Award for "Gay Sex Scene of the Year" for the pandemic lockdown-themed "Lips Together — Six Feet Apart."
Bennet marks his studio debut with the new series. "Kane welcomes Eli to 'Camp CockyBoys' and, after some wining and dining, introduces him to the 'Make Me Cum' game," teased a rep. "Eli is unfamiliar with this game, but he figures it out real quick once Kane lets his big dick flop out."
"'Let's Get Cocky' celebrates sex and summer, in an almost-post-pandemic world, evoking the freedom and sexiness that emanates from the performers," the rep added.
The scene also includes candid interviews with the performers as they reflect on what being "cocky" means to them.
"We are all ready for summer this year after the past 15 months. That was the impetus for the 'Let's Get Cocky' series," Jaxson said. "In addition to the sex scenes, I wanted to include interviews of what 'cocky' means to the performers, so I sat down to talk with these young men — who are just my age when I first had real gay sex — and I got to learn who they are, how they are doing, what have they discovered during their moments of self-reflection and just how they are addressing the changes ahead." 
"I could not be prouder, touched, and inspired by their honesty, awareness and bravery," he added. "And I could not be more grateful to them for helping me see and understand, once again, that my life is beginning again, as a proud gay man, just as they are."
Find CockyBoys online and on Twitter.