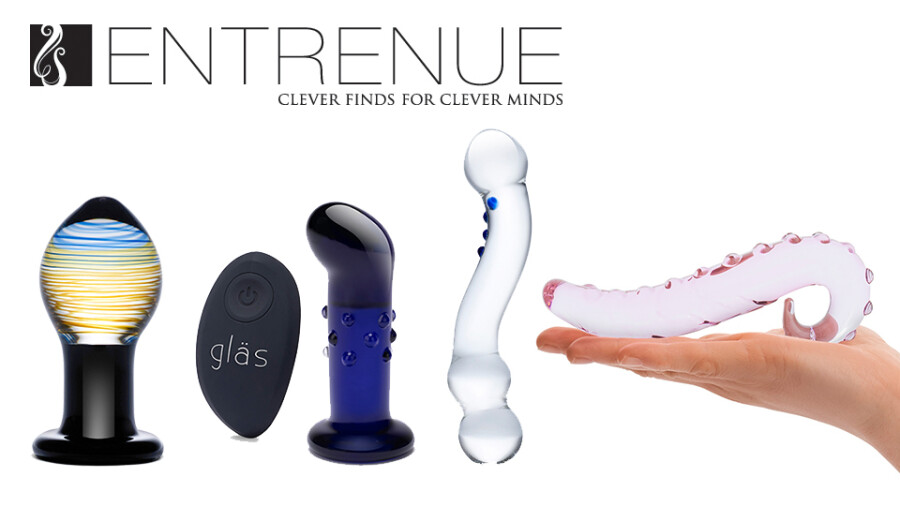 Entrenue Debuts New Additions to 'Gläs' Collection From Electric Eel
PHOENIX — Entrenue is now shipping 21 new products from Electric Eel's Gläs collection of borosilicate glass sex toys.
Included among the new toys are three rechargeable vibrators, 12 dildos, three plugs and four multi-piece sets,
"Everything about the Gläs brand is beautiful and we're excited to include them in our catalog," said Entrenue Vice President of Sales and Marketing Lily Wang. "The shapes and colors are high-end and the inclusion of rechargeable vibrating glass toys makes this collection stand out in a crowded field. Gläs products are head-turners, great for in-store displays, and are sure to be a hit with sex toy aficionados, glass-curious newbies, and sexy gift shoppers alike. Borosilicate glass offers a unique sensation and feels unlike any other material, and we're happy to bring new options from Gläs to the table."
The collection features the Rechargeable Ribbed Butt Plug 3.5-inch, Rechargeable G-Spot/P-Spot Plug 4-inch, Rechargeable Butt Plug 3.5-inch, Chili Pepper Dil 8.25-inch, Lick-It Dil 6-inch, Curved Glass Beaded Dil 5-inch, Curved Glass G-Spot Stimulator 7-inch, Textured G-Spot Glass Dil 6-inch, Quintessence Beaded Anal Slider 7.5-inch, Mr. Swirly G-Spot Glass Dil 6.5-inch, Mr. Swirly Spiral Glass Dil, Candy Land Juicer 6.5-inch, Purple Rose Nubby Dil 7-inch, Double Trouble Glass Dil 10-inch, Purple Rain Ribbed Dil 9-inch, Amethyst Rain Butt Plug 3.25-inch, Galileo Butt Plug 3.5-inch, Mr. Swirly 4-piece Set, 3-piece Anal Training Set, Double Pleasure 2-piece Glass Dil Set and the Double Penetration Swirly Dil & Butt Plug 2-piece Set.
Each products and set includes a storage bag. The rechargeables also include USB cables, remote controls, and removeable bullets with bullet sleeves.
For more information, visit Entrenue online, email info@entrenue.com or call 800-368-7268.