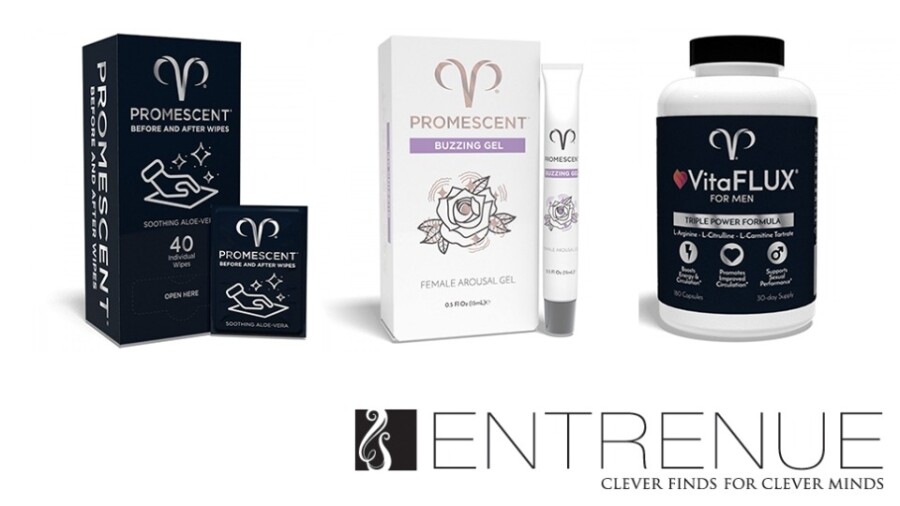 Entrenue Inks Exclusive U.S. Distro Pact for 'Promescent' Intimate Products
PHOENIX — Entrenue has inked an exclusive United States distro agreement for Promescent intimate products, including buzzing and warming arousal gels, intimate wipes, VitaFlux supplements for men and women and other items, as well as the company's flagship delay spray.
"Part of a growing category of topicals and intimate cosmetics made for enhancement and pleasure, the new offerings give adult retailers a new doctor-recommended product line perfect for add-on and crossover sales," a rep explained.
Promescent's flagship product is its lidocaine-based Delay Spray, a penis desensitizing spray developed by urologist Dr. Ronald Gilbert.
"This doctor-recommended formula features a metered dose, ensuring users always get one mL of lidocaine per spray, and patented TargetZone Technology for fast absorption of the lidocaine into the penis — within 5-10 minutes — with little to no passage of the lidocaine onto partners," said the rep. "While there are many products on the market that claim to function similarly, very few are FDA-compliant. As a spray, Promescent is also a great option for consumers who are wary of ingesting a product with questionable ingredients."
Promescent has recently added VitaFlux supplements to its offerings "designed to boost sexual and overall health," added the rep, as well as "female arousal gel in a Warming formula that contains peppermint and a Buzzing formula that contains Sichuan pepper, and biodegradable Before and After Wipes designed to be a portable convenient way to freshen up before sex or clean up after — all in stock now."
On the boards are benzocaine-based delay wipes, a set of "convenient, individually packaged wipes available in packages of 5 or 15. These wipes are made to offer consumers an easy-to-use option with a slightly less intense — yet still effective — formula than the original lidocaine spray."
Entrenue Senior Sales and Buyer Kim Maty said the Promescent products, created by a urologist and compliant with FDA standards, offer the "magical combination of mainstream appeal and medical approval that make it a brand consumers can trust."
"We're thrilled to be the exclusive U.S. source of these high-quality products for adult stores," added Maty. "Promescent was created by a doctor, so shoppers know they are getting safe and effective products that are truly the gold standard for sexual enhancement."
The product line has received mainstream boosts on The Doctors, CNBC, CNN and Playboy Radio and in publications such as Cosmopolitan, Glamour, The Atlantic, Chicago Sun-Times, Men's Health and Esquire.
To place an order, call (800) 368-7268, email info@entrenue.com or visit their B2B portal.