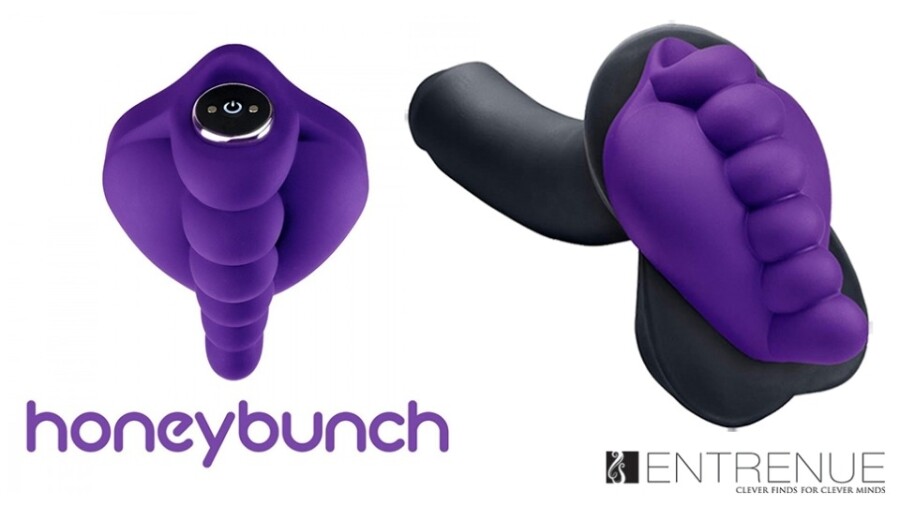 Entrenue Named Exclusive U.S. Distributor of 'Honeybunch' From Bananapants
PHOENIX — Entrenue has been named the exclusive U.S. distributor of the Honeybunch dildo attachment from Bananapants.
"The latest addition to the company's B.cush line of dildo attachments, Honeybunch is a contoured silicone cushion that attaches firmly to the base of harness compatible dildos. With a contoured mound of round, plump nubs to rub, and the option to insert a bullet vibe, Honeybunch provides stimulation and cushion for the wearer during strap-on harness play or during solo play," a rep explained.
The design of Honeybunch includes "a tacky backside that securely sticks to most dildos with a base and is compatible with open O-ring and underwear-style harnesses," continued the rep. "The Honeybunch can be worn in a variety of ways — there's really no wrong way to wear it! — allowing the user to elevate their pleasure and create their optimum experience."
Honeybunch fits bullet vibe sizes up to 1.8 cm x 8.5 cm, is available in black and purple, and has an accessible MSRP of $39.99. Bullet vibe is not included.
"We are so excited to add Honeybunch to our catalog and give customers another innovative and clever sex accessory," Entrenue Senior Sales and Buyer Kim Maty said. "We have had a lot of success with the BumpHer and the rest of the B.cush line from Bananapants. The idea is so simple, but so effective. We love that the products were designed by a woman and are so comfort and pleasure-focused. Honeybunch is also easy to use, aesthetically pleasing and has a terrific price point. It's especially exciting that it can be used with the user's favorite bullet, vibe but is also sturdy enough to leave the vibe cavity empty and grind away."
For retail support, the Honeybunch packaging is simple and eye-catching with a bright yellow and purple color scheme, B.cush branding and a clear window allowing customers to see the product inside. Packaging is suitable for both shelf and slat-wall displays.
To place an order, call (800) 368-7268, email info@entrenue.com or visit their B2B portal.