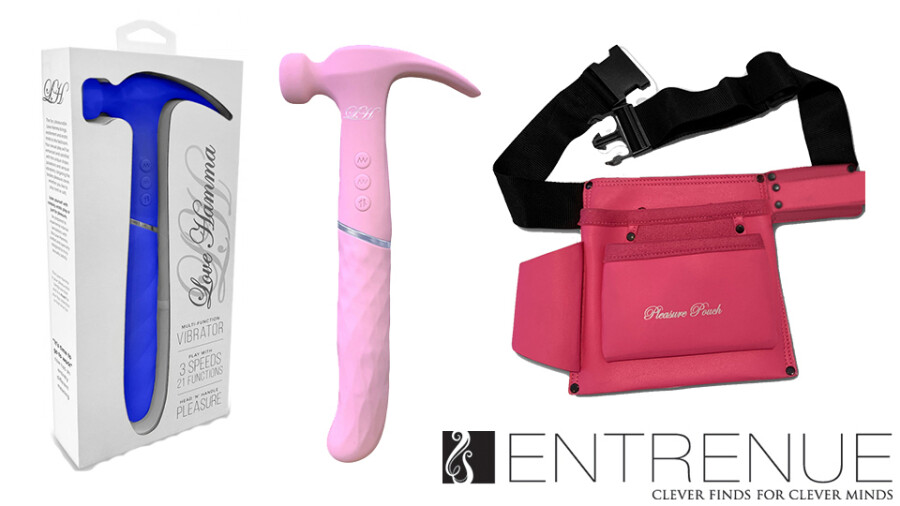 Entrenue Now Shipping 'Love Hamma' Vibrating Pleasure Tool
PHOENIX — Entrenue is now shipping the Love Hamma, a handheld massager shaped like a claw hammer.
"Available in curved or rounded shapes, this cheeky take on a pleasure tool gives retailers something eye-catching and in-demand to add to their inventory," a rep said. "The Love Hamma is a powerful vibrator with a realistic hammer head for those craving intense dual stimulation. With seven vibration speeds in the 'hamma' ears and three speeds of vibration in the handle shaft, Love Hamma offers incredible clitoral thrills and blissful internal massages."
With 10 powerful thrusting speeds in the handle shaft for G-spot and P-spot stimulation, as well as an independently controlled ears and shaft, Love Hamma allows users to customize each pleasure session.
Entrenue is also offering the Pleasure Pouch, inspired by a tool belt, designed to hold toys, lubes, handcuffs and other accessories. Available in black and pink, the Pleasure Pouch is "one size fits most."
"No fumbling around or awkward pause to find toys or lube, this smooth leather pouch keeps everything close at hand," the rep added.
Entrenue CEO and owner Joe Casella said, "It's always fun when a product comes with a ready-made audience, and the Love Hamma has name recognition thanks to its rave reviews on TikTok. The internet has really responded to this toy and folks are already clamoring for it. It's such a cool product — unique and unusual, fun to hold and look at, and super-powerful vibration — and sparks conversations on the sales floor."
"Using accessories in the bedroom can get awkward and messy, and the beautifully made Pleasure Pouch is an elegant solution that keeps the fun going," added Casella. "We have been fielding many requests for Love Hamma and we're excited for our customers to have it in stock."
The USB-rechargeable, waterproof Love Hamma comes in pink, blue and black and is made with body-safe silicone with three controls: one operates vibration in the Hamma head, another controls vibration in the shaft and a third controls the shaft's thrusting motion.
For more information, call (800) 368-7268, email info@entrenue.com or visit Entrenue.com.