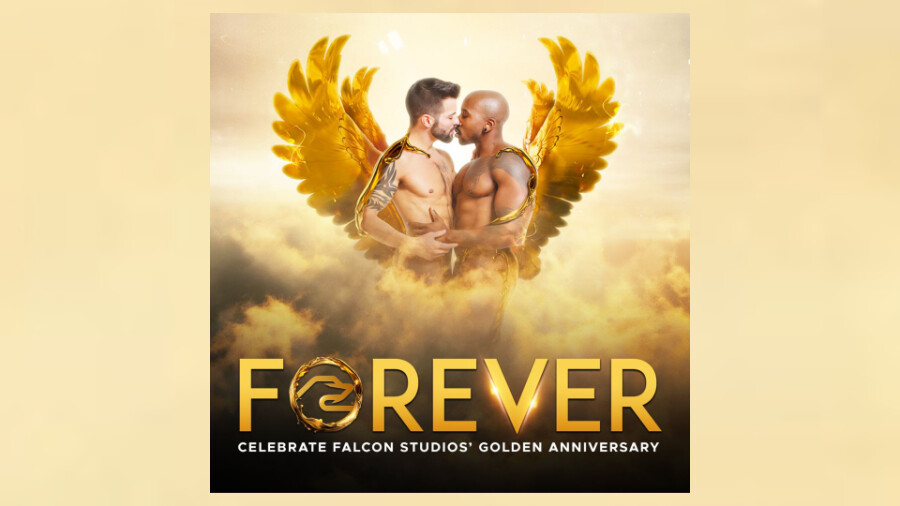 Falcon Studios Announces 'Falcon Forever' Golden Anniversary Celebration
SAN FRANCISCO — Falcon Studios has announced the rollout of "Falcon Forever," a yearlong promotional campaign commemorating the brand's 50th anniversary with a variety of giveaways, free weekly content and other special events.
The "Falcon Forever" celebration includes a partnership with CAM4 presenting live weekly adult shoots.
"Over the next 12 months, the legendary studio will honor the iconic men of Falcon past and present, showcase our extensive catalog of classic hits and give a glimpse into the future as it continues to evolve and reign as the world's most recognized brand in gay porn," a rep enthused.
Throughout June, Falcon is offering a 50% discount on memberships; members will also have the opportunity to win one of 50 Falcon Vintage Logo T-shirts.
The partnership with CAM4 will provide members with "exclusive access to a fully immersive and deeper, multi-camera experience," noted the rep.
Titled "Not Your Average Cam Show," the series kicks off with exclusive Cade Maddox and Luke Truong Friday at 4 p.m. (PDT). Exclusive Cole Connor is paired with Roman Todd for June 11, followed by studio exclusive and reigning XBIZ "Gay Performer of the Year" Max Konnor with Xavier Zane on June 18 and exclusive Tristan Hunter with Evan Knoxx and Dan on June 25.
The "Weekends at Falcon" promotion will offer free weekly access to a variety of fan-favorite scenes from the company's storied catalog as well as specially produced exclusive content, beginning with "Seed Money: The Chuck Holmes Story," the documentary about Falcon's founder, from June 4-6.
"The Other Side of Aspen: Remastered" will screen for free from June 11-13, followed by "Miss Pineapple Pageant 2021 Live" on June 20 at 3 p.m. (PDT). "The Pledge Masters" will close out the month.
"This is truly a golden anniversary, and we're celebrating it with an epic year-long party,"  Falcon/NakedSword President Tim Valenti exclaimed.
"Falcon's long history is cemented in gay culture, and our future is bright; that's why we chose to call the anniversary campaign 'Falcon Forever.' Falcon is the 'Forever' brand in gay porn," he continued. "We plan to honor our legacy by continuing to create smoking-hot, high-quality porn as well as evolve as an innovator in the adult industry. We are the world's most recognizable brand in gay male adult entertainment and Falcon will be around for many decades to come."
A branded portal at FalconStudios.com will serve as a hub for all screenings and event updates; follow the studio on Twitter.