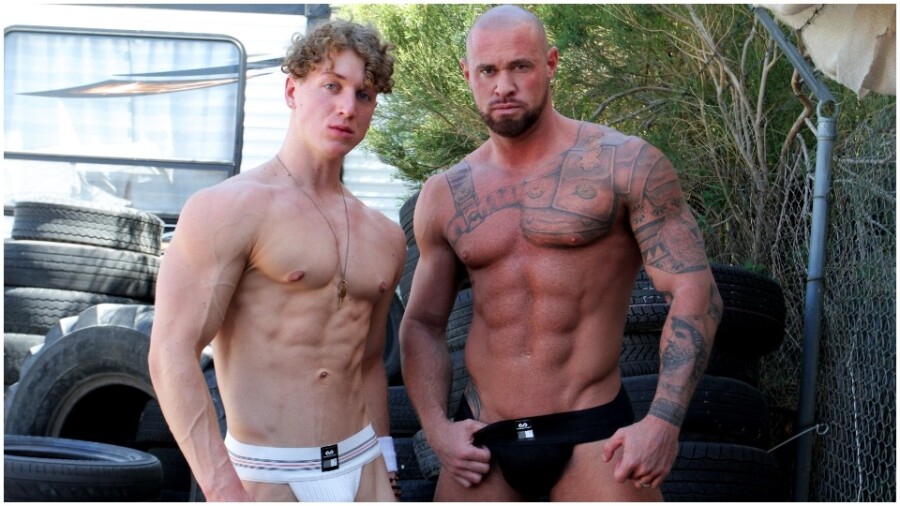 Felix Fox, Michael Roman Go 'Fox' Hunting for NastyDaddy
PALM SPRINGS, Calif. — Michael Roman and newcomer Felix Fox topline "Fucking a Fox" for Ducati Studios' NastyDaddy.com that goes live Friday.
Fox, an import from Ducati Studios' brother site TrailerTrashBoys.com, is described by company principal Anthony Duran as "gay porn's new 'It Boy,'" while his costar Roman is "a megastar muscle daddy."
"Pairing the two up together was a no-brainer," Duran recalled. "They look great together and their chemistry was undeniable. They were already going for it before we had the cameras rolling."
Studio founder Trenton Ducati took note of their chemistry in the recently released "Are You Pee Shy?" for TrailerTrashBoys.
"We saw the energy and connection those men had and we wanted to capture it again," Ducati explained. "And with everyone wanting to get Felix into their scenes, we decided not to wait and just make that magic happen again."
The men "waste no time getting to the action."
They get down to business "in a dirty back alley setting under the blazing California summer sun," said Ducati. "Furthering our 'How do they get away with that?' theme, you can hear cars driving past and even men working at the car garage next door."
"It's just what fans of NastyDaddy like," he added.
Ducati noted the property is "experiencing a surge in excitement."
"NastyDaddy still produces the rough-and-tough action fans have enjoyed for the site's 12-year run — how has it been that long? — but we have been heavily investing in new production teams, new production gear and in a new wave of fans who found us through our DVD series," he said.
Visit NastyDaddy.com and follow the studio on Twitter. 
Affiliate promotion details are available through DucatiCash.