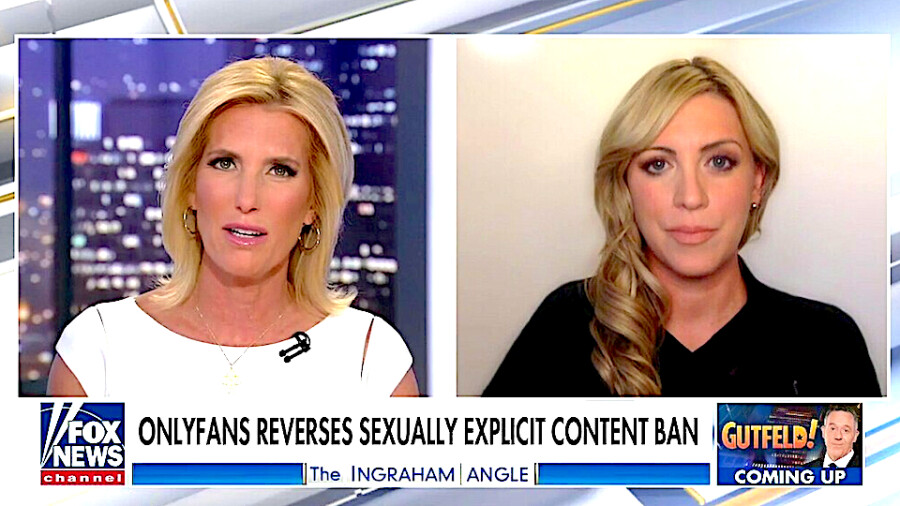 Fox News, Conservative Think Tank Renew Call for OnlyFans Porn Ban
LOS ANGELES — After a few days of positive mainstream media coverage of sex worker rights, and hours after OnlyFans announced it had reversed its decision to ban porn from the platform beginning October 1, conservative voices renewed their call for adult content censorship.
Yesterday, Fox News' host Laura Ingraham invited leading anti-porn activist, Laila Mickelwait, to offer commentary on OnlyFans' decision.
Mickelwait is the mouthpiece of anti-porn ministry Exodus Cry and also currently the CEO of her own organization, which matches people with lawyers putting together class-action lawsuits against porn companies using the FOSTA-SESTA exception to Section 230. She summarized her Fox appearance via Twitter, posting: "Visa was sued for knowingly benefiting from the Pornhub sex trafficking venture, because of this card companies & banks are rightly afraid of the liability they face for doing business with Big Porn sites exposed for enabling and profiting from sex crimes."
She added that "credit card companies and banks have enacted strict moderation as well as age and unambiguous consent verification regulations for doing business with Big Porn sites to protect themselves from legal liability."
Speaking to Fox News' audience, Mickelwait demanded that OnlyFans "clean up their mess and comply by October 1."
Threats of Physical Violence
Today, the American Mind, the official organ of leading U.S. conservative think tank the Claremont Institute, published an essay by writer Spencer Klavan. In the essay, Klavan repeated NCOSE (formerly Morality in Media) talking points, which have included misinformation about the issues surrounding OnlyFans' decisions, and blamed 1970s feminism for encouraging women to be employed outside the house, which he sees as the source of the problem.
Based in Southern California, the Claremont Institute and its doctrines became central to the Republican Party and the Trump movement during the 2016 campaign, when it published a now-notorious essay called "The Flight 93 Election," arguing that moderate conservatives should become ardent Trump supporters because a Trump loss would mean a Hilary Clinton victory. which would be equivalent to terrorists hijacking a plane. The job of all conservatives, particularly moderate ones, the essay argued, was to fall in line behind Trump and "storm the cockpit" of America.
Michael Anton, the author of "The Flight 93 Election," was rewarded with a seat on the National Security Council after Trump's victory.
Today's Claremont Institute article also made a not-so-veiled call for physical violence against the owners of OnlyFans, whom Klavan called "pimps," "dirtbags," "seedy low-lifes" and "secretive London millionaires."
"In better days," the article incited, "anyone who suggested a scheme as noxious as OnlyFans would be hounded out of town with pitchforks."