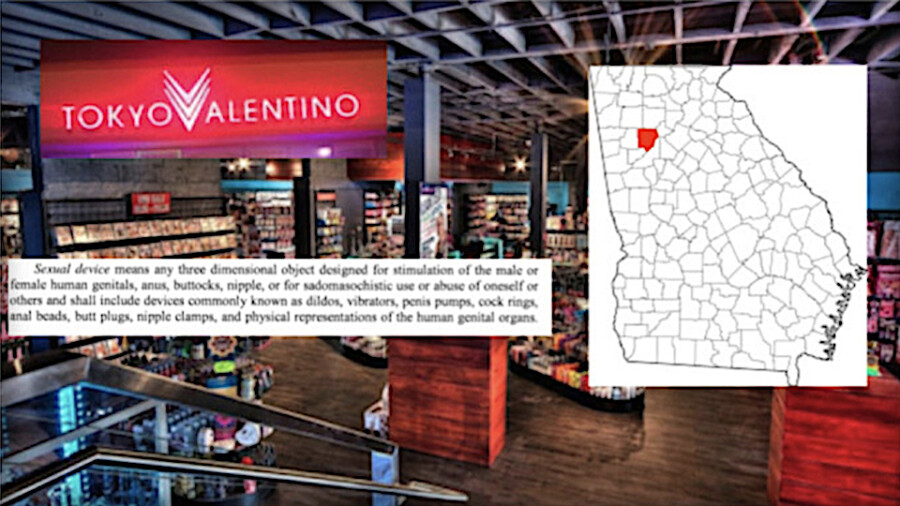 Georgia Judge Orders Tokyo Valentino Location Shuttered
EAST COBB, Georgia — A Cobb County Superior Court judge has ordered a Tokyo Valentino store closed as the adult boutique awaits an appeal over a zoning and licensing dispute instigated by local officials who oppose "sexually oriented businesses" in the Atlanta-area city of East Cobb.
Last Friday, Judge LaTain Kell ordered the East Cobb Tokyo Valentino closed over their failure to obtain a business license from the city for 2021, or to apply for a newly redefined "special license" required for sexually oriented businesses.
According to East Cobb News, Judge Kell's ruling "took effect at 11:59 p.m. Friday, and Tokyo Valentino was ordered to address all of those issues before the store would be allowed to reopen."
The East Cobb News reporter noted a sign posted on the outlet's shuttered doors, which stated that "the closure was 'temporary' and referred customers to nearby Tokyo Valentino locations in Marietta and Sandy Springs."
Attorney William Rowling, who was part of the zealous local opposition to adult establishments, told East Cobb News on Monday that "the Cobb County Superior Court heard evidence and argument on the county's request for an order prohibiting Tokyo Valentino from operating without a county business license, and for violating the County's sexually oriented business licensing and location rules, while the County's case against the business proceeds."
"The County will continue to defend and enforce its ordinances enacted for the health, safety and welfare of Cobb County residents," Rowling insisted.
For XBIZ's ongoing coverage of the attack by local Georgia officials in East Cobb and Marietta against adult boutique Tokyo Valentino, click here.