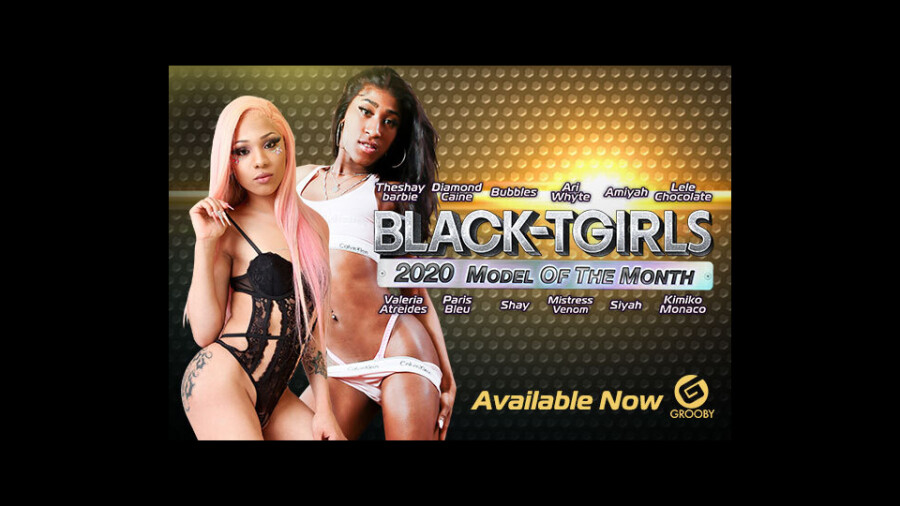 Grooby Releases New Title 'Black TGirls: 2020 Model of the Month'
LOS ANGELES — Grooby has released its latest title, "Black TGirls: 2020 Model of the Month," for streaming and wholesale/retail release.
The action spotlights "twelve of the hottest performers from Black-TGirls.com" in solo scenes "shot in dazzling 4K," noted a rep, including Amiyah, Valeria Atreides, Paris Bleu, Bubbles, Diamond Caine, Lele Chocolate, Kimiko Monaco, Shay, Siyah, Theshaybarbie, Mistress Venom and Ari Whyte.
"For fans of our popular site, this title features each 'Model of the Month' for 2020," the rep explained. "Despite the pandemic, we've assembled 12 solo scenes from the best performers from the site."
Find additional details online and follow Grooby on Twitter for the latest updates.
In related news, the studio recently rolled out "Grooby Girls: 2020 Model of the Month," and inked with Domino Presley to pen a new advice column for Grooby Girls magazine beginning with next month's issue.