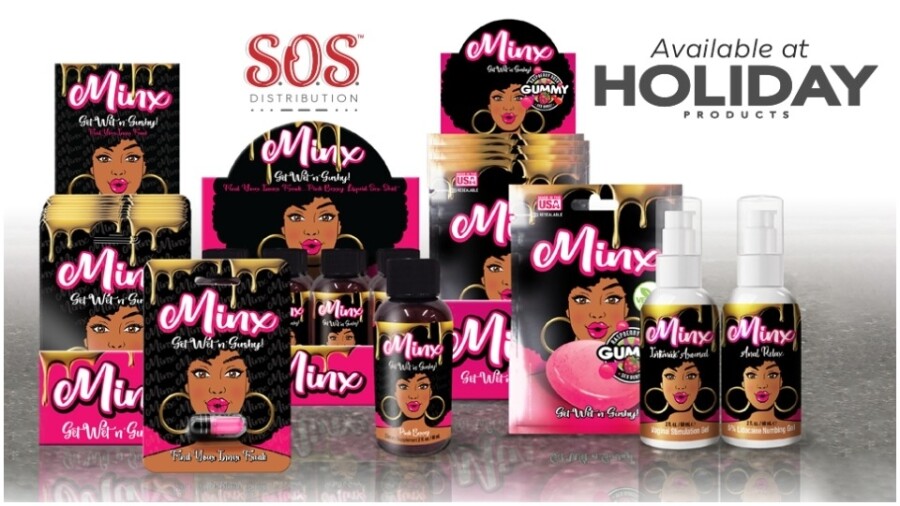 Holiday Products Partners With SOS Distribution
CHATSWORTH, Calif. — Holiday Products has announced a partnership with SOS Distribution for its line of sex enhancers and supplements.
"Taking a modern approach to sex enhancers, SOS offers a comprehensive variety, including capsules, liquids, gummies and topical formulas," explained a rep. "Each collection speaks to a different demographic, as demonstrated in the contemporary designs of the simplified packaging. Each formula is upfront and honest, with the ingredients listed on the back of the card, bag or bottle."
"Additionally, their items are exclusive to the adult industry, which elevates the brand even further," added the rep.
SOS Director of Operations Jorge Solorzano said the company is "proud to partner with Holiday Products, our first full-line distributor."
"No matter which industry-exclusive SOS brand you're looking for — Hard AF, Juicy AF, Minx, Vixen, Steel Erection or Surge — Holiday is the place to find all of them," he added. "We're excited to work with Holiday and their knowledgeable and passionate staff; it's been years in the making but sometimes you have to wait until the right time, and that right time is now."
Holiday President Ken Sahn added the SOS team's "knowledge of their offerings and how each product works is extremely impressive. Holiday has been looking to expand our supplement category for quite awhile. But we wanted the best ingredients, the best packaging and the most legitimate brands. We found that with SOS. This new partnership comes at the perfect time."
Senior Account Manager and Product Specialist Molly Romeo added, "SOS has taken a next-level approach to the supplement game. Their passion for how each line is presented and perceived coupled with the special care taken with ingredients, delivery systems, and packaging will be well-received by our customers."
For additional details, contact a preferred account manager at (800) 266-5969, email sales@holidayproducts.com or visit the company's B2B portal.
Follow Holiday Products on Twitter and Instagram.