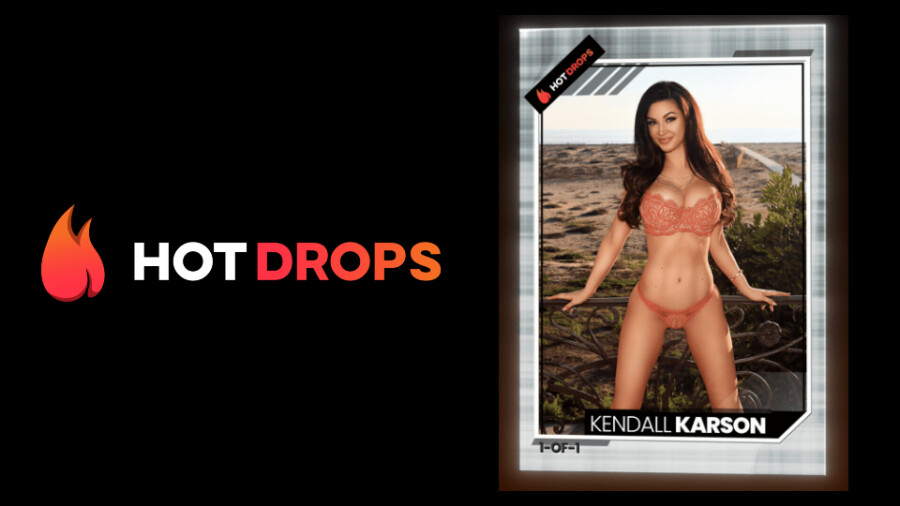 Hot Drops' 1st NFT Collectible Reportedly Sells for Over $11K
SACRAMENTO, Calif. — Hot Drops has reportedly sold its first NFT collectible, a card featuring its CEO Ashley Youdan (aka Kendall Karson), for a high bid of 3.2948 Ethereum, equivalent to approximately $11,281 at the time of purchase.
Hot Drops is described as "a decentralized NSFW platform that empowers adult content creators using blockchain technology," which allows creators to release "limited-edition and exclusive pieces of content to their fans, while retaining lifetime royalties on future resales."
Youdan said she is "ecstatic that our first Hot Drop sold for such a substantial amount."
"It shows that the market for adult content NFTs is going to be robust," she added. "The founding ethos of Hot Drops is to empower creators to be compensated fairly for their work, help creators take control of their content without fear of censorship and enable the potential for a consistent income source for creators, even after they chose to retire, all while creating exceptional fan experiences."
"I am excited to be leading the adult industry into the exciting new world that blockchain and NFT technologies allow," continued Youdan. "The adult industry is always an early adopter of new technologies and smart contracts are opening the doors to creative content experiences that have not previously been available. This initial card from Hot Drops is just the first step in a series of exciting announcements and developments you'll be seeing from us in the coming weeks and months, so stay tuned for more."
A company rep noted Youdan's exclusive digital collectible is "one-of-a-kind and no other copy of it will ever be available anywhere else."
"In the future, Hot Drops will be releasing limited-edition NFT collections in larger series sizes. Hot Drops' digital collectibles will enable creators to authenticate their content to prevent piracy and impersonation, monetize their content in creative new ways, establish lifetime royalties, avoid censorship on other platforms and give fans the opportunity to make money from owning adult content for the first time in its secondary marketplace," they continued.
The forthcoming Hot Drops Marketplace will allow fans to "buy and sell these limited-edition items. Hot Drops will be releasing different collectible series of content and cards, further incentivizing fans to buy the entire collection, in order to earn unique rewards."
An inaugural roster of content creators will be announced in the coming days.
Visit MyHotDrops.com and follow the company on Twitter and Instagram.