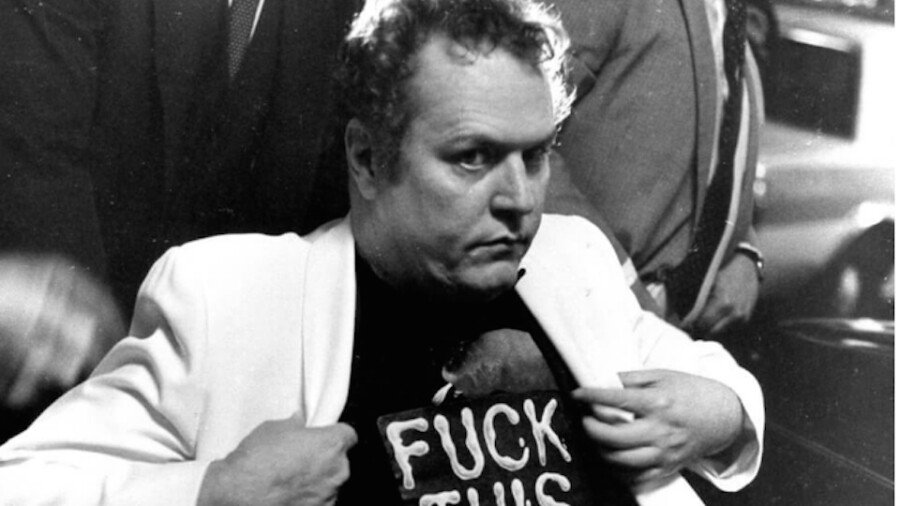 Hustler Magazine Remembers Iconic Founder Larry Flynt With Commemorative Edition
BEVERLY HILLS — Hustler Magazine has released a special commemorative issue dedicated to founder Larry Flynt, who passed in his sleep on February 10.
The issue, according to a rep, "highlights past articles and features that remain timeless and are as relevant today as when first published."
From Flynt's first Publisher's Statement in July 1974 to the groundbreaking interracial pictorial "Butch & Peaches," and beyond, "this special edition delves into the magazine's archives to bring readers an intimate look at Flynt, his history and the legacy he leaves behind."
The June 2021 issue includes classic, pioneering layouts, including the gender-bending "Vegas Folly" and "Trick or Treat," and the graphic "The Rape of Justice," all of which were first published over four decades ago.
"The infamous 'Butch & Peaches' is featured in its entirety," the rep added. "It was the first-of-its-kind biracial layout in mainstream print and resulted in an assassination attempt on Flynt's life that left him paralyzed from the waist down."
A Pioneer of Sexual Freedom and Liberation
"I knew that the December issue of Hustler, featuring 'Butch & Peaches' — a Black guy and white girl — was a revolutionary step which would no doubt rile the censors somewhat, but I never dreamed that every bigot and his brother would go ape shit," Flynt wrote in his February 1976 Publisher's Statement. "But despite the many hate letters, we get a hundred letters of support for every one of them."
Hustler, he added presciently, "will continue to pioneer the horizons of sexual freedom in search of total liberation."
Articles included with the June issue include "Hypocrisy is the Enemy," first published in 2013, where Flynt discusses his landmark Supreme Court victory, "America's biggest enemy" and his love of women. Elsewhere, editors pay homage to the film "The People vs. Larry Flynt" and its impact on cinematic history as told through the eyes of writer Colin McCracken. Former longtime Hustler editor Bruce David's 2014 "Larry Shock" gives readers an inside look at the turbulent rise of the magazine's infamous leader and the early days of Hustler. And Dennis Hopper describes his interaction with Flynt when he was asked to direct his own 1984 photoshoot "What Is Art?" which is also included in its entirety.
The special issue features Addie Andrews on the cover, along with a 12-page centerfold layout, plus an Aria Lee pictorial. The feature "A Star Is Born" showcases many top adult stars in their very first Hustler layouts — Alexis Texas, Sunny Leone, Jenna Jameson, Jesse Jane, Shyla Stylez, Tori Black, Madison Ivy, Tasha Reign and more.