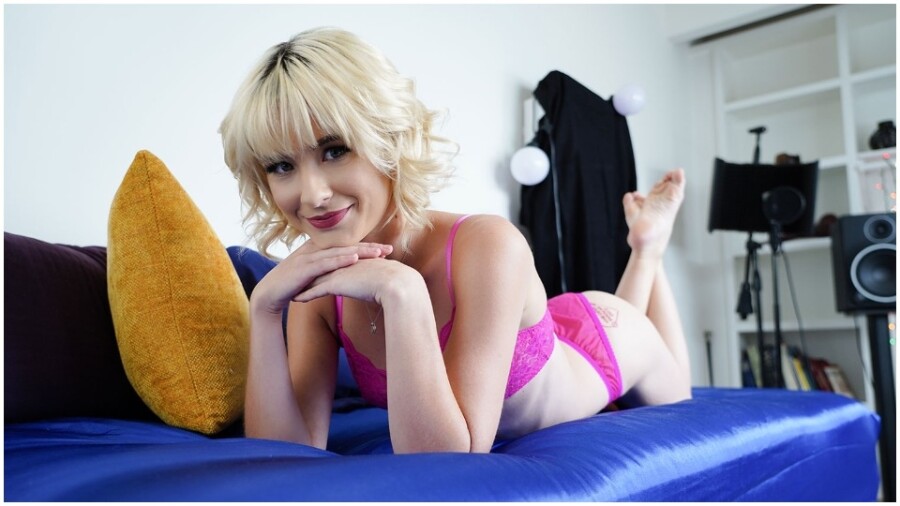 Jessie Saint Offers 'Pleasure Tune Up' in VR for SexLikeReal
LOS ANGELES — Jessie Saint toplines "Pleasure Tune Up," the latest VR fantasy from SexLikeReal, director Alex Nash and director of photography Evan Redstar.
"Golden-haired goddess Jessie [plays] an adorable, aspiring vocalist that refuses to let her complete inability to carry a tune get in the way of her dream to work with the best producer in the music industry," a rep explained.
"After disastrously botching her voice audition, the knockout uses her powers of persuasion to convince the big-deal producer that she can do much better if he can help her clear her throat and calm her nerves. Before long, Saint is under the table tuning her tonsils with the producer's prodigious prick," noted the rep. "Sparks fly and desires flare as Saint's spectacularly tight and supple body is zealously pounded from every angle until the hardcore jam session climaxes with a creamy crescendo."
Nash praised his leading lady.
"Jessie is a delight to work with and she really exudes the charming girl-next-door energy that this role calls for," he said. "We shot numerous intimate close-ups from a variety of 3D perspectives so that Jessie's fans can get up close and personal with the starlet and savor every sensational orifice on her marvelously nubile physique."
"Never skimping on production quality, the 'wet-hot' action taking place in the music studio environment can be viewed with an expansive 200-degree field of vision in high-resolution 6K video," he continued. "Adding another element of authenticity, the clip also features spatial audio. When Jessie whispers in the viewer's ear or moans pleasurably, he'll believe that she's right there with him in the throes of intense passion."
Find "Pleasure Tune Up" starring Jessie Saint at SexLikeReal.com and follow the studio on Twitter.